An Awesome 2-Week Vietnam Itinerary (For First Timers)
Vietnam might be a small country, and until recently, it may have fallen short of many people's travel radars. However, the world is starting to wake up. Vietnam is, as well as being infinitely complex, a land of staggering beauty and intrigue – home to timeless rural hamlets and vibrant, glossy cities, all set amongst some of the most incredible nature planet earth has ever produced.
Despite its size, there is a lot to see in Vietnam. The north is famous for its rippling mountains, towering karsts and cascading rice terraces. Central Vietnam is, on the other hand, known for its royal vestiges amidst beautiful beaches. Southern Vietnam with its grand Mekong Delta is a contrasting picture of utmost modernity and beautiful country areas. Two weeks is the bare minimum time to see a generous sample of the country.
Ho Chi Minh City (1-2 Nights)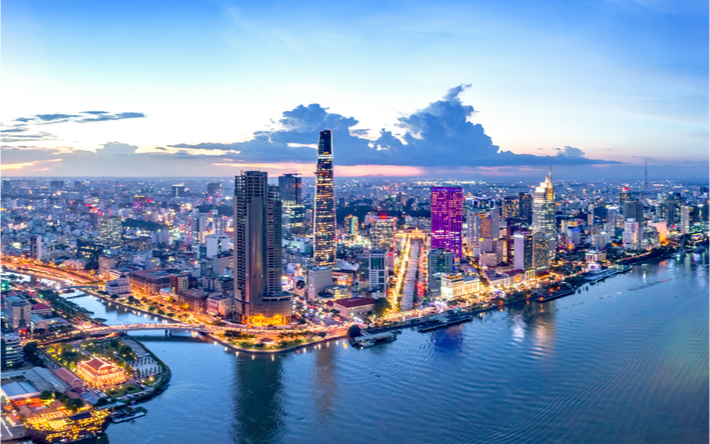 Boats in Ho Chi Minh city riverside
Ho Chi Minh City is enigmatic, buzzing and on the way to becoming one of Asia's biggest commercial powerhouses. Home to eight million, the city is still commonly referred to as Saigon; a throwback to its interesting, and often complicated recent political history.
Must Try:
Activities: The city's War Remnants Museum is one of a kind in Vietnam, standing as a brave testament to the bravery of the Vietnamese during the nightmares they endured during the 20th century. Vehicles used in war, including immaculately preserved tanks, missiles and planes are presented in the outside grounds, whilst exhibits denoting the human side of the struggles are displayed inside.
Nightlife: For when you're ready to mix with other tourists and locals to pumping dance hits, Apocalypse Now is your best bet. One of the oldest and most famous nightclubs in Saigon, Apocalypse Now is always a safe bet for a night out; set over two floors, this enormous club stays open until 4am and offers nightly drinks promotions. It also has a pool table, as well as couches which are perfect for chatting to new friends.
Mekong Delta (Day Trip)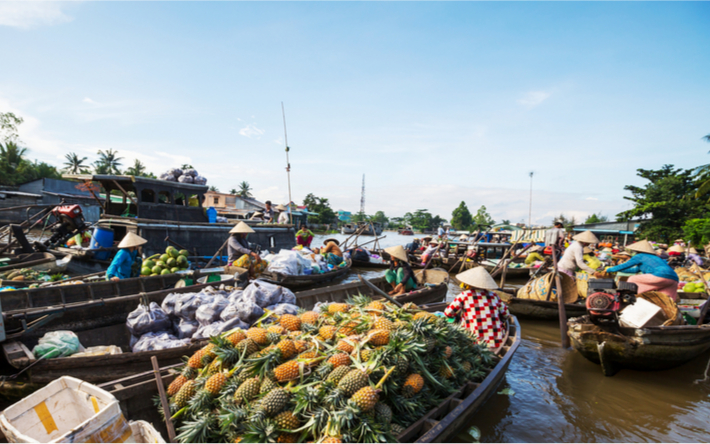 Local daily life in Mekong Delta
The Mekong Delta is referred to as the 'rice bowl' of Vietnam. With its lush, fertile climate and abundance of crops and plants, the area is famed for its colourful floating markets; where merchants load their wares onto small paddle boats and sell and buy goods from other small market vendors. As well as markets, houses and regular boats float up and down the delta, creating a dizzying and vibrant community that you'll find nowhere else on earth.
Nha Trang (2-3 Nights)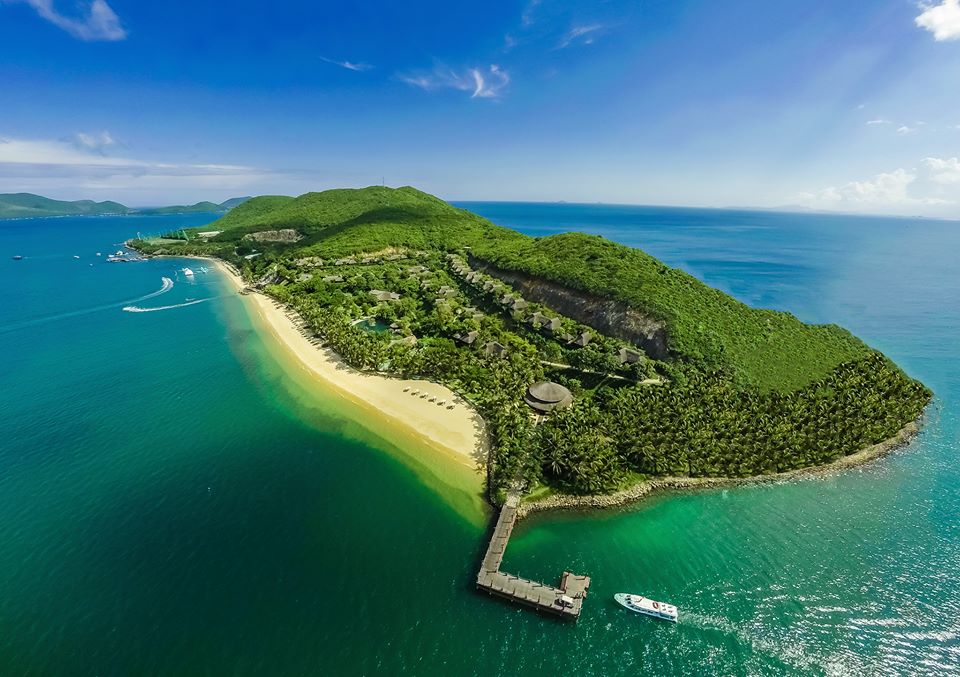 Hon Tam Island - Nha Trang (Image: vntrip.vn)
Nha Trang is the favorite coastal destination of most domestic tourists, as well as pockets of Asian visitors. Not only does Nha Trang boast some of the best beaches in all of Vietnam, but the city itself is energetic, modern and relatively chic, due to recent development. History and culture lovers will also be sated, as the region is home to Buddhist temples, old French churches and ancient Champa historical sites.
From Ho Chi Minh City, Nha Trang is easily reachable by a variety of transport options, with many flights departing daily. Regular train and bus routes also service this 434 kilometer journey, and are a great bet for those wanting to save a few bucks on travel. Tickets can be bought from ticket touts throughout either city, as well as at the train and bus stations.
Must try:
Activity: Tran Phu beach is the number one must-see activity for your trip to Nha Trang. It is the life and soul of the city center, and is framed by modern shops, bars, resorts and restaurants that give the promenade a real holiday feel. If beach activities are your thing, a huge range of fun activities are offered throughout the year, including yoga, spa treatments and bicycle tours, as well as water sports such as surfing and snorkeling. Deck chairs and beach beds are also available at the reasonable price of 35,000 VND per day.
Food: Whilst you're in Nha Trang, you have to try bun cha ca; thin rice noodles served in a light seafood broth and topped with, amongst other things, jellyfish. This dish can be found at many seafront eateries and is usually as little as 35,000VND per bowl.
Hoi An (3 Nights)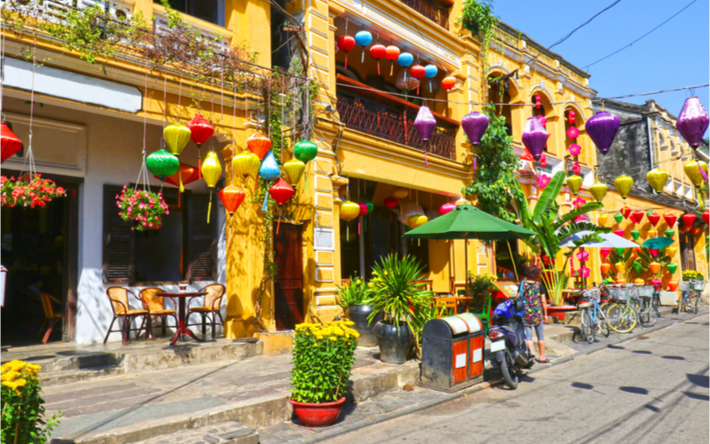 The colors of Hoi An, Vietnam
Situated along the coast of central Vietnam, Hoi An is one of a kind in the country. Its background as a prominent Vietnamese trading port has resulted in complex and varied architecture styles, culture, and cuisine. Elements of Chinese, Japanese and French occupation have left an indelible mark on the town, whose meandering canals, rustic buildings and dreamy lanterns have earned it its place as a UNESCO World Heritage Site. From Nha Trang, your best transport option is to take a domestic flight up to Da Nang, where you will find myriad private and public buses that can take you the short journey up to Hoi An. From Hoi An, it is easy to reach Hue via bus, the old Reunification train (runs regularly, tickets can be bought from the train station) or, the best way; via the Ha Giang pass on motorbike (can be rented at either destination and then returned at the other, your luggage can be taken to your hotel by private transfer ta extra cost).
Must Try:
Activity: Hoi An is bursting at the seams (excuse the pun) with tailors and silk merchants. Inexpensive and experienced tailors will fashion you a custom garment usually within 24 hours, or 48 for some suits and dresses, such as the traditional ao dai.
Food: The food in Hoi An is so unique, varied and delicious it truly is hard to pick just one to recommend. Simply take a stroll around the old quarter and get ready on a cuisine adventure that is not only mouth watering but also eye pleasing.
Da Nang (1 Night)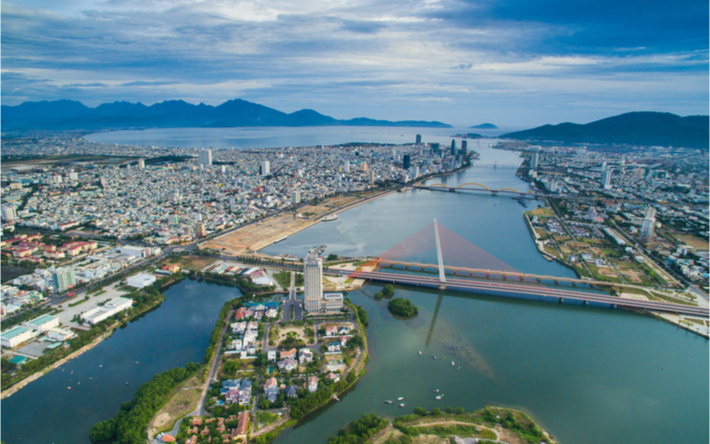 Da Nang City
Danang is modern Vietnam in a nutshell. Once barely heard of, both have grown and developed at breakneck speed and are now at the top of everyone's travel radar. This central Vietnamese city boasts hundreds of modern high-rises and posh resorts all vying for attention on its white-sand beach, making it a popular place for economically mobile Vietnamese to settle, and the ideal location for young families and large groups to travel to.
Danang's central location makes it the perfect place to stop before heading north or south. It is well connected via its large international airport, servicing daily flights to and from Asian cities such as Singapore, Bangkok, Seoul and Kuala Lumpur, as well as all major domestic locations. It is also home to a train station, and regular bus and train routes operate from several locations in the city. To book tickets, ask at your hotel or at one of the several tourism and travel agents dotted around.
Must try:
Food: Turmeric tinted rice noodles known as mi quang are Danang's hallmark dish. Meat toppings include shrimp, boiled quails' eggs, and roast pork, though these can vary to include fish, chicken and beef, occasionally with some sesame rice crackers thrown in.
Hue (1-2 Nights)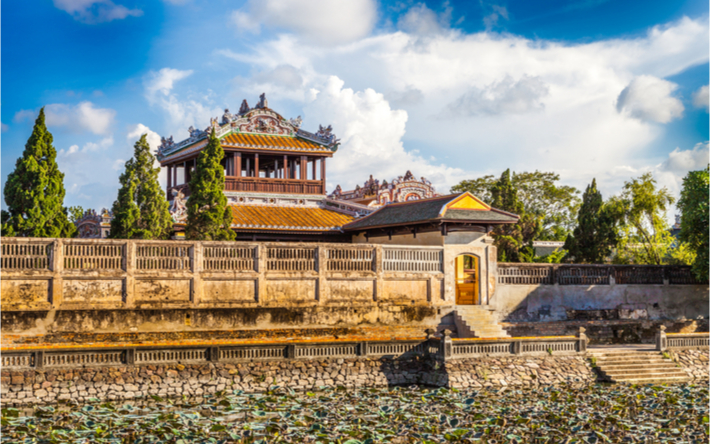 Imperial Royal Palace of Nguyen dynasty in Hue
Hue is Vietnam's ancient heart; a place that saw some of the bloodiest fighting during the American War, yet today wears its recent and traditional history with pride. Many of its buildings were destroyed during the fighting, however the 19th century imperial citadel, a tangible vestige of its reign as the country's capital, remains at the centre of the city.
Hue is accessible via the Reunification Express train running overnight to and from Hanoi. Tickets (for a soft sleeper bed) go for just under 60 USD one way, but are well worth it for the romance and comfort of the journey. It is also possible to get to Hue via bus and motorbike loop (Hai Van pass) from Hoi An or Da Nang.
Must try:
Activity: A visit to the imperial citadel is a must for any tourist visiting Hue even for a short time. Tickets are around five USD, and grant you access to the serene, and impossibly photogenic grounds, where walking tours are possible in several languages, including Korean, Spanish, German, Japanese and English. Here you will see images of knights charging around the sprawling complex on horseback, and glance at some of the parts which are still in construction after the heavy fighting during the end of the American War. If you look carefully, bullet holes are still visible in the crumbling facades.
Food: Hue beef noodles, known as 'bun bo Hue', can be found in street side restaurants across the country, but it's their cultural homeland of Hue that they really shine. A thick, meaty broth is adorned with rice noodles, beef, as well as fresh chillies, ginger, fermented shrimp paste and lashings of lemongrass. A bowl will typically cost you as little as 1USD – head deep within the market on the banks of the Perfume River to get the most authentic bowl.
Hanoi (2-3 Nights)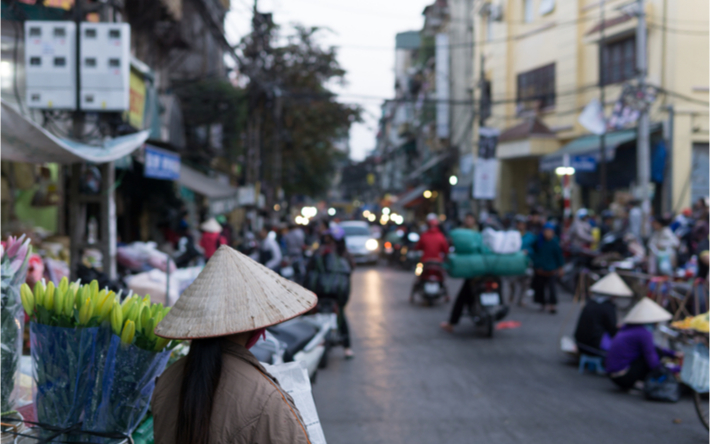 Street life in Hanoi
Vietnam's capital is to be seen to be believed – a cacophony of horns, winding passages and people poking out from every crack is ready to greet the awaiting traveler. This is a city full of life; color, smell, noise and heat are present everywhere. But, take one unfamiliar turn, and you could find yourself by one of the many serene, traditional temples dotted around the country; a vestige of its occupation. And, due to the its location, Hanoi is the perfect vantage point from which to explore elsewhere in the northern region.
Must try:
Nightlife: For a nice drink, in a buzzing part of town, check out The Snug, at 19 Dang Thai Mai, Tay Ho district. This locals bar cum Irish pub is always full of interesting regulars, friendly staff and cheap drinks. During the week, pub quizzes, live sport and open mic's are hosted, whereas the weekend will usually feature live music and barbecue. Once it's time to leave, head back down Dang Thai Mai where you will find other expat-centered bars such as the Garden, as well as a whole host of trendy bars and restaurants down alley 12.
Food: You may have heard of Hanoi's signature dish; pho, but have you heard of its fried, fluffy cousin, pho chin? Best served in the flow market late at night, or in Truc Bach district, this lesser-known dish will keep you awake at night on your return home. Thin pouches of rice noodle batter are deep fried, until they puff up into little pillows, when they are then served with fresh greens and usually beef. The killer is truly the sauce it comes in; sweet, salty and sour; perfect for dipping the crispy, fluffy pillows (chin) into.
Cat Ba & Ha Long Bay (0-1 Nights)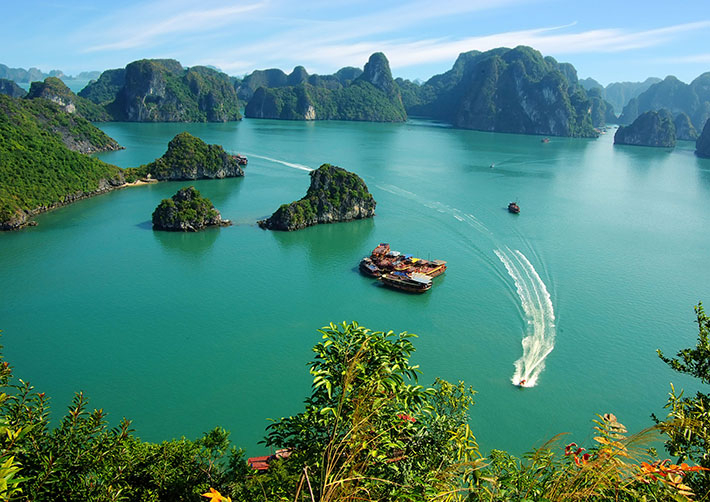 Halong Bay (Photo: Adayroi.com)
Just north of Hanoi in Hai Phong province is the UNESCO World Heritage site of Halong Bay – Vietnam's most coveted natural area. If you've seen any pictures of Vietnam, it's likely that you would have seen the jutting limestone karts and pure, turquoise waters of Halong, adorned with traditional junks bobbing along the waves. Halong Bay is easily seen in a day, but sending the night on a boat on the bay is a really special experience, and will allow you to spend more time exploring the various grottoes, caves and secret beaches that give Halong Bay its reputation for being one of the best tourist attractions in the world.
Neighboring Cat Ba island sits just across the bay, and is slowly becoming first choice for young travelers and backpackers, thanks to its laid-back vibe, access to not one, not two but three beaches, and sleepy, but populated seafront strip, host to a few small bars and restaurants. The island is also home to a national park, where you can catch a glimpse of the last of the world's golden-headed langues, the world's most endangered primates.
Last update:
Ready to start your holiday?
Want to customize your own trip based on this itinerary? Contact our team using the form below!
Request a free quote
READ NEXT