8 Best Luxury Resorts in Vietnam
Whilst Vietnam, much like its South East Asian neighbours, may be a huge attraction for backpackers and students, there is also a formidable luxury market catering to those who's tastes favour the fabulous. These world class accommodation facilities are only growing, especially in the past 5 years that have seen the signature work of Intercontinental and JW Marriot, two among most luxury hotel brands. Vietnam's tropical climate and long beach stretch makes the country an unbeatable choice for luxury holiday.
From private pools to personal golf courses to entire European villages perched on the tropical shore, we've scouted the eight best luxury resorts that Vietnam has to offer, so you don't have to!
1. Vinpearl Resort Chain: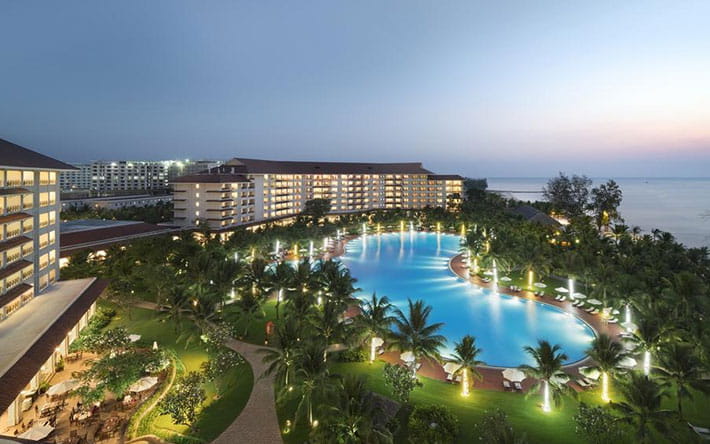 Famed for their proximity to Vietnam's UNESCO heritage sites and most desirable beaches, the Vinpearl name is synonymous with luxury. Locations are scattered all over Vietnam, with Da Nang, Ha Long, Hai Phong, Hoi An, Nha Trang and Phu Quoc being the most famous.
All resorts boast sensational private villas, complete with pools and a local bar for socialising or relaxing after a tough day relaxing! Whilst all Vinpearl resorts are uniform in their modern and sleek architecture, the resorts vary from beach villas to large seafront hotels, to modern city high-rises where you can soak up Vietnam's electrifying urban atmosphere.
For golf lovers, head to the Hai Phong branch, where you can find an expansive, 36-hole golf course designed by IMG directly next to the villas. Only two hours' drive from Hanoi, this resort makes a perfect stopover from the hustle and bustle of Vietnamese city life.
For a real foray into the life of the 1%, Vinpearl's luxury Nha Trang suites provide quaint beachfront villas that offer pools, private gardens, spa huts and exclusive restaurants and bars all perched on the panoramic Nha Trang coastline.
2. Mia Resort Nha Trang: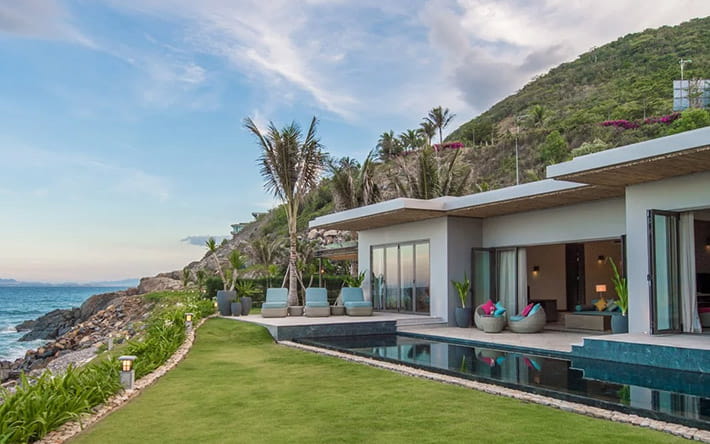 Thanks to its popularity with wealthy Russian and Asian tourists, it's no surprise that Nha Trang is home to myriad luxury and exclusive resorts. Mia resort is almost unmatched in its opulence and is the clear choice for honeymoon couples or those looking for a taste of unabashed opulence.
What sets Mia Resort apart from its competitors is its close alliance with the nature that surrounds it. Powdery white beaches and crystal-clear water lap the private beach that the resort perches on, and its position as the only resort planned nearby cements its reputation as being the predominant unique, boutique and exclusive resort in the area. Fragrant private gardens filled with the scent of frangipani flowers and fresh sea air make for a uniquely rejuvenating experience that you will struggle to match elsewhere in Vietnam.
3. InterContinental, Danang: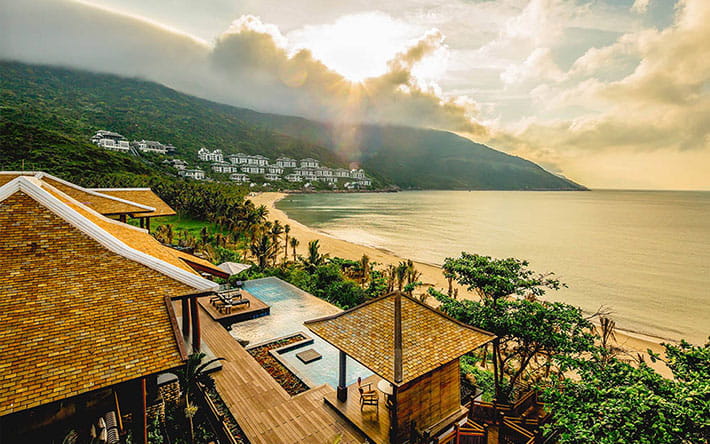 Further up the coast of the country, Da Nang is also home to luxury resorts using the best of what nature has to offer. The InterContinental Danang Sun Peninsula Resort sits pretty on the Son Tra Peninsula just outside of Danang proper, and is by one of the most stunning luxury beach resorts in the whole country.
The resort was designed by revered architect Bill Bensley, who wanted to repurpose and incorporate traditional Vietnamese history and ancient mythology to the design. The end result was this stunning retreat spaced out over four levels, each named after the four archaic components of nature; Heaven, Sky, Earth and Sea. Sharing the beach and lush surrounding forests are also rare red-shanked douc langurs, so bring your camera.
Prepare to be pampered from the moment you step foot into the grounds of the resort - the InterContinental's personalized service and top-of-the-range incorporated amenities are why it really makes our list. For food, head to La Maison 1888, which is the creation of world famous super chef Pierre Gagnaire. Or, try a signature spa treatment at the in-house spa, HARNN Heritage Spa. What more could you ask for?
4. JW Marriott, Phu Quoc: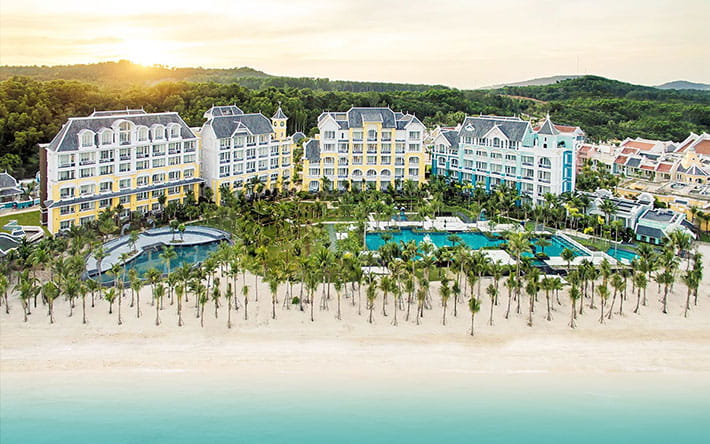 The first luxury hotel in the hidden gem of Phu Quoc on Vietnam's south coast, JW Marriott takes full advantage of the islands pristine beaches and tranquil atmosphere. Unlike the modern architecture of the resorts aforementioned, famed Architect Bill Bensley, mastermind behind infamous hotel The Siam in Bangkok, designed the hotel from an abandoned 1890s French university, and many of the rooms still feature the original oak embellishments and tall, regal ceilings it was built with, giving the hotel's 200 rooms a quirky, yet unmistakably classy feel.
JW Marriott, one of the titans of the luxury hotel market, hasn't omitted any of the indulgent perks that you would expect from its formidable title; ocean view balconies, standalone villas, sparkling private pools, as well as private beaches and professional spas are all waiting for you. The resort is more like a beautiful little European town, with whimsical brightly painted, lantern-lit streets that look as though they've stood there for decades – the only giveaway being the distinctly tropical paradise on your doorstep.
A convenient 50-minute flight from Ho Chi Minh City, the hotel opened just last year, and cost a staggering 250 million USD. Quite an impressive sum given the distance US dollars can go in Vietnam, but this figure gives you the idea of the staggering luxury of this resort.
5. Six Senses, Ninh Van Bay: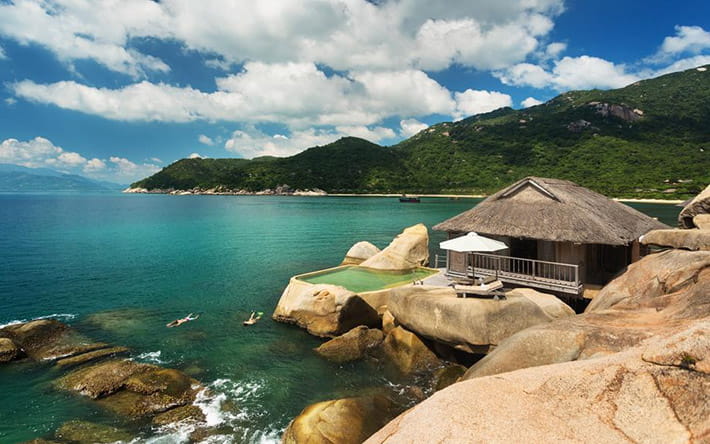 Peering out over Ninh Van Bay, Six Senses is positioned on a beach around 15 minutes from Pho Minh Temple. This private setting could convince even the most jaded visitor that they were, in fact, in a prehistoric Asian paradise, were it not for the state-of-the-art amenities.
Think plunge pools, panoramic coastal views, uber-modern bathrooms and the best bathtubs you've even bathed in. Choose between the Hill Top Pool Villa, Beachfront Pool Villa, Rock Pool Villa or Water Pool Villa; all have their own unique personality and are meticulously designed.
The resort also boasts a spa offering traditional Vietnamese therapies, as well as customized detox programs and nourishing facials which are tailored to suit each individual guest. And, when it's dinner time, pop over to one of the handful of restaurants at Six Senses which serve delicious local and international food, using the fresh organic produce of the area including lobsters, king prawns and fish - all caught daily. Then, all that's left is to lounge on a daybed with a drink in hand, looking at your own piece of Vietnam's magic coastline.
6. Four Seasons: Nam Hai, Hoi An: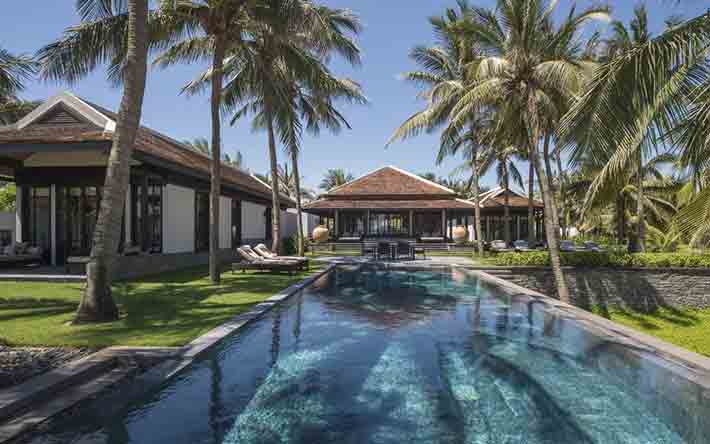 This ostentatious hotel first opened its doors as the then market-leading Nam Hai, before Four Seasons took it over in 2016, after ten happy years of service. Today, the Four Seasons: Nam Hai is held as one of the most exquisite luxury hotels in the world, and just half an hour's drive from Danang International Airport!
As well as being perfectly accessible by flight, the Nam Hai is also just 8 km from local Hoi An attractions such as Quan Cong temple, the Old House of Tan Ky, as well as Hoi An Ancient Town, a UNESCO World Heritage Site famed for its colourful lanterns and quaint walking streets, as well as world-class cuisine and friendly locals. And, with a shuttle bus provided throughout the day, there's really no reason to not go out and explore.
However, Nam Hai also offers myriad activities to keep you occupied. Try the in-house cooking 'academy', where you can opt for a single or multi-day course to really nail that pho recipe. All classes include a tour of the Four Seasons Nam Hai vegetable and herb garden. While this course is arranged with a supplemental fee, the resort also offers complimentary activities such as cycling tours of rice fields, tai chi, and even introductions to water sports such as windsurfing. Although, if you wish to spend your stay at one of the many cascading infinity pools, we certainly won't blame you.
7. Angsana & Banyan Tree, Lang Co: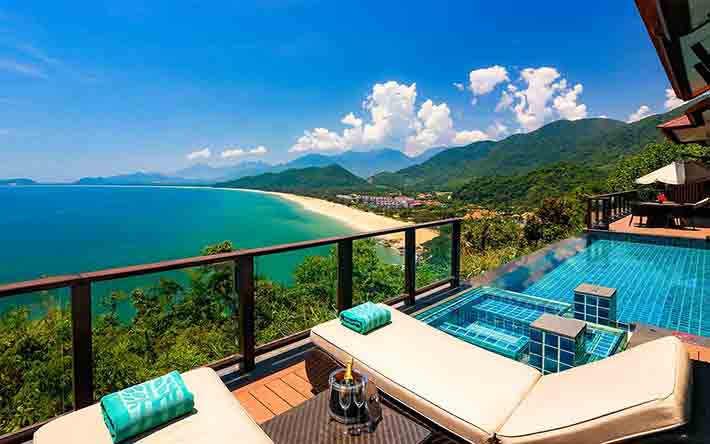 With Hoi An to the left and Hue on the right, a trip to Lang Co is a trip through a postcard of Vietnam, complete with farmers in the emerald fields adorned in conical bamboo hats, flocks of birds and wading buffalo. The resort is framed by the fertile shadow of the Truong Son Mountain Range, a popular vacation spot of the Vietnamese royalty.
A manmade canal adorned with beautiful lanterns ferries guests between Banyan Tree and interconnecting Angsana Lang Co. Despite being equipped with a huge array of modern luxuries, the resorts are reminiscent of a traditional Vietnamese village thanks to its speckling of quaint villas lining the beach and set within the hills, all of which are lucky enough to have their very own private pool. There's a communal "lagoon pool", as well as a pavilion for yoga in the mornings and sunsets, a state of the art golf course and a centre for water sports. However, if you didn't feel like moving too much we'd understand; Angsana & Banyan Tree has not one, not two, but five luxury restaurants and a few glamorous bars.
8. Fusion Maia, Danang: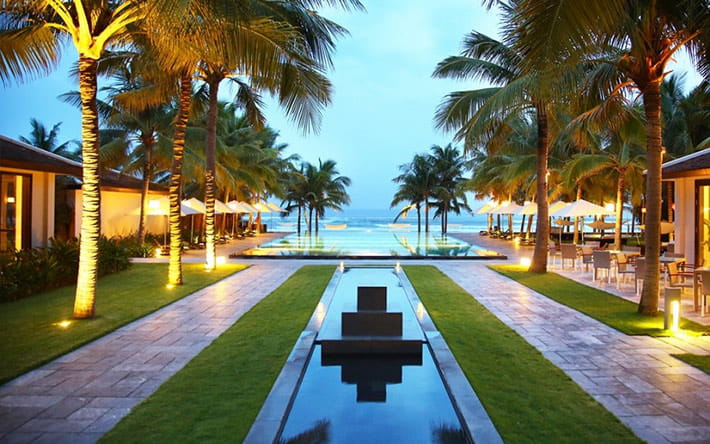 Since its launch in the market in 2008, Fusion Mania resort has dared to be different from its luxury competitors. Promoting an image of complete customer based autonomy in all of its services, incredible opulence meets a relaxed, hands-off service style making the atmosphere at Fusion Mania truly unique.
Set within a tropical garden, Fusion Maia's day spa is the largest in Central Vietnam, and temptingly, all services are included in the price of the room. This includes manicures, massages, and even a complete seven-day holistic program. As well as spa services, daily fitness activities are also included in the room rate, and include yoga, steam and sauna, as well as a fully decked out gym with weights and cardio zones.
Aside from all of the additional bonuses, the villas are as beautiful as you would have hoped for. From the furniture to the décor inside and out, every detail has been carefully designed, including restrained bamboo details and private courtyards. All of this, and just a few steps from the ocean. What more could you ask for?
Last update:
READ NEXT