Ultimate 7-Day Itinerary to Southern Vietnam
Southern Vietnam is truly where paradise exists. Its' convex swathe of coastline is, for many, reason enough to visit the country. However, aside from beauty, the area also boasts sophisticated cuisine, world-class nightlife, and a fascinating history that makes southern Vietnam a must for all traveling enthusiasts. However, for those who are pushed for time, it is possible to taste a small but significant portion of the region in a week or less. For those working within this time-frame, here's what we think you should see.
Our suggested itinerary is best fit for:
For those who have limited time but want to discover the most crutial part of the Southern parts of Vietnam.
Those who are indepentdent travelers and young couples.
For beach lovers
Ho Chi Minh City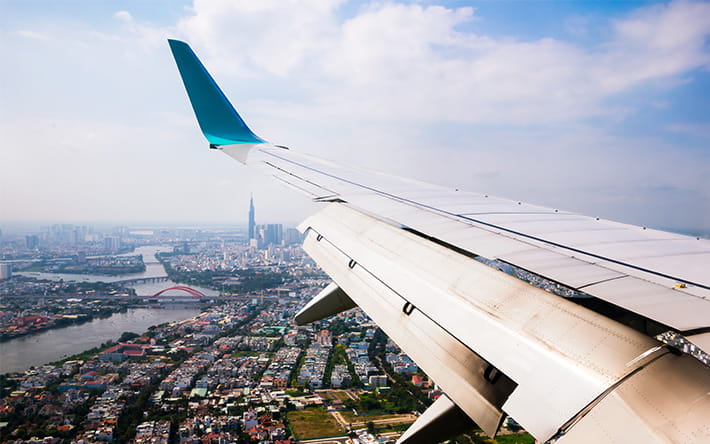 Flights arriving in Tan Son Nhat airport, one of the busiest airports in Vietnam and Asia.
Ho Chi Minh City, commonly referred to as Saigon by locals, may not be the Vietnam's official capital, however it's the nations' financial and commercial hub, and largest city. Vietnam's 1986 regeneration project, known in Vietnamese as Doi Moi, brought about sweeping changes to the entire country, which were felt the strongest in Ho Chi Minh City, and are largely credited as bringing Vietnam as a whole into the 21st century. This effervescent city, perched on the banks of the Saigon River, is a thriving metropolis with a fascinating history that reveals itself at every corner.
Must Try:
Activities: An absolute must for anyone interested in the War, or history in general, is the powerful War Remnants Museum, located in the centre of the city. Here you will find exhibits displaying the various machines, weapons and detritus remaining from one of the 20th centuries defining moments. The museum does an excellent job of illuminating both the plight and bravery of the Vietnamese who fought to free their country from imperialism, as well as providing an interesting and detailed explanation of events which led to the war.
Nightlife: For cheap beers (and we mean cheap, cold beers go for as little as 0.20USD), Bui Vien Street is your best bet. Competing with any tourist bar street, this road in Vietnam's Pham Ngu Lao District is the perfect place to people watch after a long day of sightseeing. However, if you're looking for a nice quiet drink with no possible chance of hearing the same 2009 club playlist over and over, give it a miss.
Phu Quoc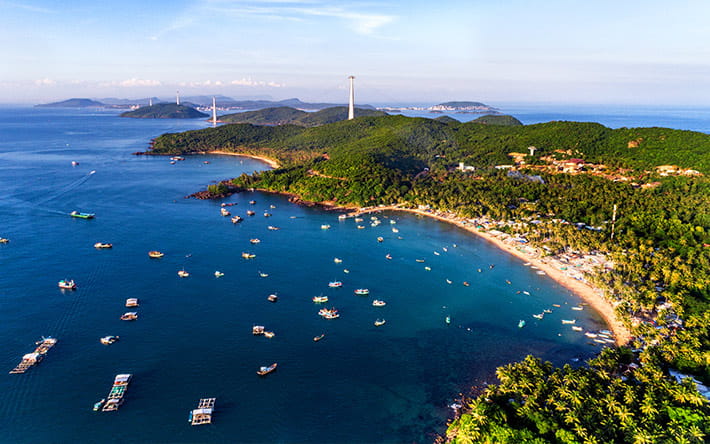 Hon Thom cable car holds the record for longest triple track cable car connecting Phu Quoc, Hon Thom and other smaller Islands.
Phu Quoc ("foo kwok") is a large tropical island that's actually closer to Cambodia than Vietnam geographically. Once a hidden treasure reserved for those travelling southern Vietnam, the island has, in recent years, been the site of increased development and foreign investment. This, along with direct flights from the UK and other European nations, means that Phu Quoc's days as a quiet paradise may be numbered.
It is possible to get to Phu Quoc via direct flight from many international destinations, including, now, London Heathrow. Flights from Ho Chi Minh City are plentiful and economical; however, train and bus travel are also popular, and significantly more scenic, but can take ten hours, rather than the one hour it takes to fly between the two locales.
If you didn't want to fly, there are two options to get to Phu Quoc from Ho Chi Minh. Take Mai Linh bus to Kien Giang and then a ferry to Phu Quoc.
It is also possible to take a cruise from Ho Chi Minh City. Departing daily from 8am and 1pm from the port of Rach Gia, SuperDong and Savana ships take around two and a half hours and make for a fast, relaxing journey for the price of around 400,000 VND (or 17.5 USD) one way.
Must Try:
Activities: Nature lovers rejoice; around half of Phu Quoc is a national park. Made to preserve its natural tropical rain forests, the national park is set within a man made biosphere and includes waterfalls, coral reefs, wetlands and other parts of the surrounding natural landscape. The island is also home to a number of rare species of turtle, including the green turtle.
Food: As the island's economy and lifestyle is very much based on how they can use the sea, it's no surprise that the residence of Phu Quoc know what they're doing with fish. And, as it happens, it turns out that Phu Quoc is the cultural Mecca of fish sauce; an ingredient used liberally in Southeast Asian cooking. The sleepy villages dotted around the coast all have their own claim to fame, so keep a close look out for vintage bottles – they can be very cheap and make for a great souvenir for foody friends.
See our Phu Quoc 4 Day 3 Night Itinerary
Did you know?
Visitors flying directly to Phu Quoc and staying there do not require an entry visa for 30 day stay.
Mui Ne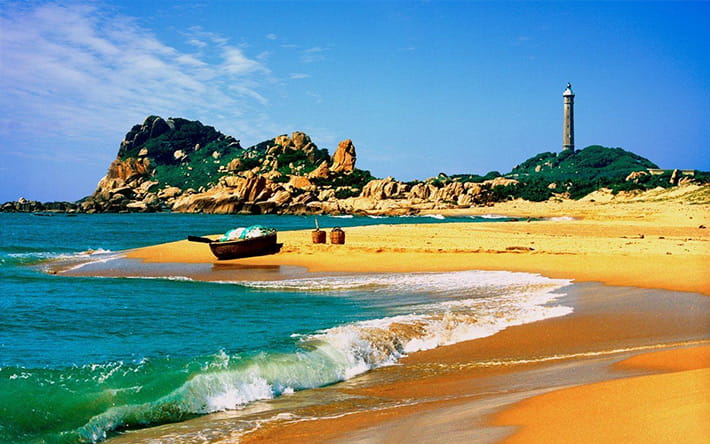 Mui Ne Beach, one of the most beautiful beaches in Vietnam.
Mui Ne is still a relatively undiscovered seaside destination compared with other Vietnamese coastal cities, however for those who venture there, it is a taste of paradise. Whilst modernization and development are creeping in (and who says that's a bad thing?), the relaxed essence of Mui Ne has persevered. The tropical white-sand beaches remain peaceful and idyllic, and the fantastic, and highly unusual sand dunes offer an exotic texture to the landscape.
Mui Ne is accessible via taxi, which takes around four hours, or via bus or train. The journey usually takes between five and six hours. If you take the train you will arrive in Phan Thiet and waive down a taxi to Mui Ne.
Must Try:
Activities: The sand dunes of Mui Ne are Vietnam like you've never seen it – these towering peaks of bronze and white sand are an ethereal geological wonder that offer more than just a great photograph. Numerous tour operators organize day trips here from central Mui Ne, although it is relatively straightforward to get there yourself. Once there, you will have the chance to spend the day trying out various dune-based activities, such as sledging and quad biking.
Shopping: Located in nearby Phan Thiet, Phan Thiet Central Market is definitely worth checking out whilst you're in the area. Myriad stalls are distributed across a huge multi-story complex, selling fresh produce and local goods, such as dried fish and fabrics. Heading there early means you'll be in with a chance of grabbing yourself the freshest catch; crabs, clams, squid and lobster are all sold here and can fetch for very reasonable prices.
See our Mui Ne in 4 Day Tour
Last update:
Ready to start your holiday?
Want to customize your own trip based on this itinerary? Contact our team using the form below!
Request a free quote
READ NEXT