The Perfect 3-Week Vietnam Itinerary
Vietnam is truly a country of staggering beauty, and endless diversity; from the sweeping rice terraces and ancient hill tribes of the north, to the tropical islands and rolling sand dunes of the south, to the high-octane cities of Hanoi and Ho Chi Minh City, you'd need a lifetime to see all that Vietnam has to offer. However, we think that three weeks is certainly a good head start.
Ho Chi Minh City (1-2 Nights)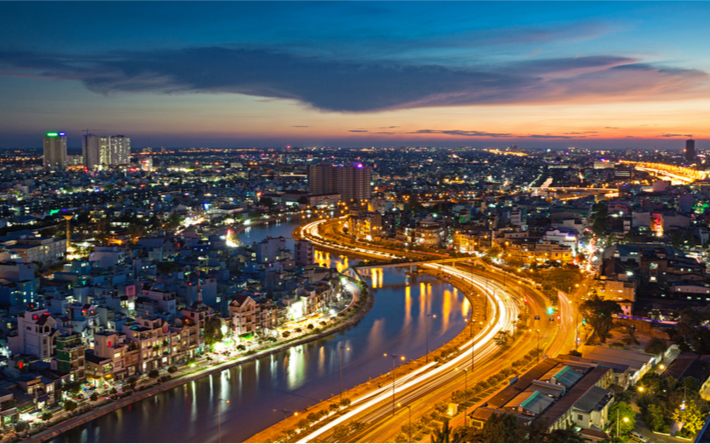 Starting in Vietnam's biggest city and financial center; Ho Chi Minh city is complicated, fascinating, beautiful and dynamic. Ancient traditions blend seamlessly alongside bursting skyscrapers and gadgets, making the city a sure contender for Asia's best city. Still referred to as Saigon by its roughly eight million residents, times haven't always been so optimistic here. But since the economic changes brought by Doi Moi in the 1980's, the city's regeneration has propelled Vietnam as a whole into the 21st century with gusto.
As the country's largest city, it's no surprise that Saigon is also home to the country's largest airport; Tan Son Nhat Airport. It is accessible by many international destinations including London and Frankfurt, and also services many domestic flights daily, including Hanoi, Nha Trang and Danang.
It is also easy to travel by bus, train or car from Ho Chi Minh City. Just ask at any of the thousands of travel and tour operator shops you will find dotted around the city.
Must Try:
Activities: The Reunification Palace saw the signing of armistice after the end of the war, thereafter uniting both the north and the south of the country. Located in the center of the city, it makes for a perfect place to spend a morning or afternoon exploring. (See our Ho Chi Minh City day trip)
Mekong Delta (Full Day)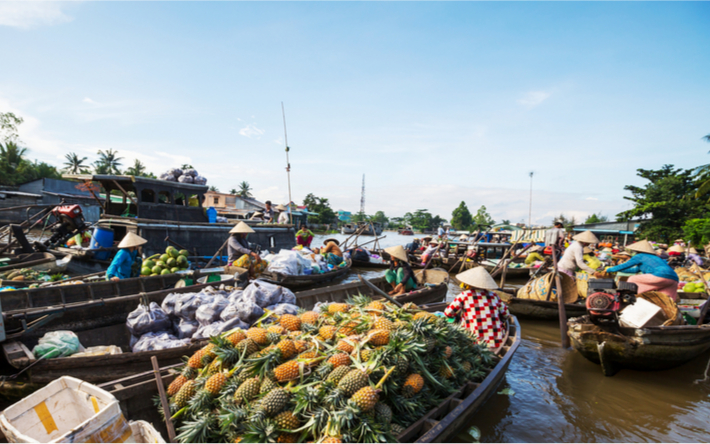 Mekong Delta: Floating Markets with local fruits
The Mekong Delta is the very lifeblood of Vietnam; this long, meandering delta which feeds most of Southeast Asia is truly the stuff of a geography textbook. Boats, houses and indeed entire markets float upon its waters, creating entire communities based around selling, sharing and buying each other's' produce, wares, or meals, without ever having to step on land.
Must try:
Activity: Ask at any hotel or travel tout about your options for a one-day tour to the Mekong. Most options will either pick you up from your hotel or meet you at a central point such as the Saigon Opera House, where you'll then embark on a day tour, before being returned back to the city. (See our 2 day 1 night Mekong Delta itinerary)
Mui Ne (2-3 Nights)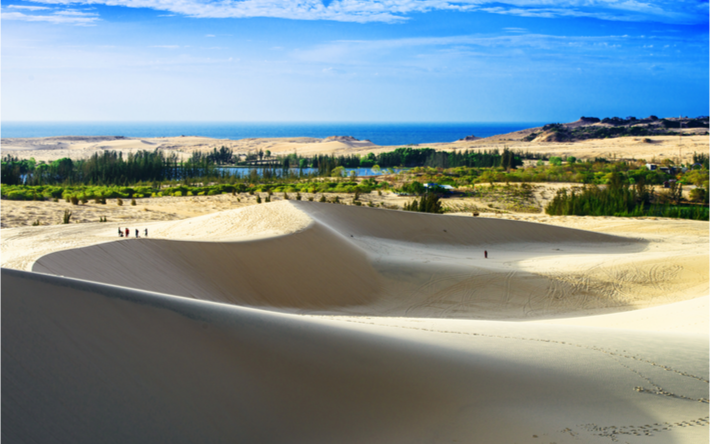 Mui Ne White Sand Dune
Mui Ne is still often overlooked for more famous coastal destinations such as Danang or Nha Trang – but may be this is for the best. Mui Ne offers sleepy fishing villages, sparkling water, and, believe it or not, sand dunes. Mui Ne is the perfect place to lay your head down for a few days, enjoy the plethora of fresh seafood, and play around on one of the more unusual geological wonders Vietnam has to offer.
To get to Mui Ne, you can jump in a (pre-booked, if possible) taxi from Ho Chi Minh for the roughly four-hour journey, or you can save money and organize a bus or a train. Buses leave from Pham Ngu Lao and will take roughly six hours one way, whereas the train ride takes around four. For those interested in taking the train, head to nearby Phan Thiet early in the morning, usually around 5.30am to secure your chances of getting a ticket for the 7am train. Tickets are 8 USD.
Must Try:
Activity: The number one thing all visitors must do when they come to Mui Ne is to check out the sand dunes. It is easy to book a tour from Mui Ne, although arranging your own transport is easy and often cheaper. Once there, it is possible to try your hand at a range of sand-based activities such as dune buggies, sledges and kites. Although, it is recommended to ask the price before trying any of these, as touts in the area are known to try their luck. (See our Mui Ne 4 Day Itinerary)
Dalat (1-2 Nights)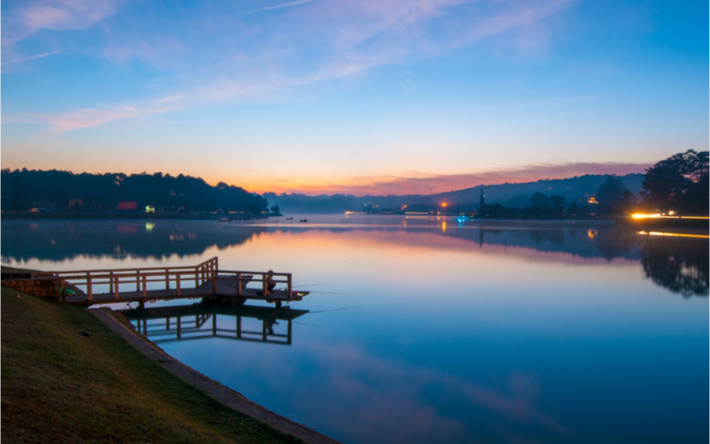 Xuan Huong Lake, Dalat
If Mui Ne is a little Sahara within Vietnam, then Dalat is a little Swiss town. Originally built by the French who struggles to cope with the searing humidity of the south, Dalat has its own micro-climate thanks to the surrounding mountains, and stays cool and crisp year-round. The mid-sized town is covered in pine forest, and is celebrated throughout the country for its cultivation of strawberries, peaches and Avocados.
Dalat can be reached by Mui Ne via taxi (price agreed beforehand) which takes roughly three-and-a-half hours, or via public bus, which takes around five, and leaves twice a day; once at 7am and once at noon. For bookings, ask at your hotel or buy directly on the bus, which leaves from Mui Ne's main street.
Must try:
Activity: A cross between Dr Seuss and inception; Dalat's Crazy House is certainly worth a visit whilst you're in Dalat. This conceptual art piece was made by Ph.D Dang Viet Nga, who studied architecture in Moscow and who has designed a number of other, significantly more practical buildings around the town. Make sure you bring sensible shoes as the house is purposefully destabilizing, and leave any small children at home!
Nha Trang (2-3 Nights)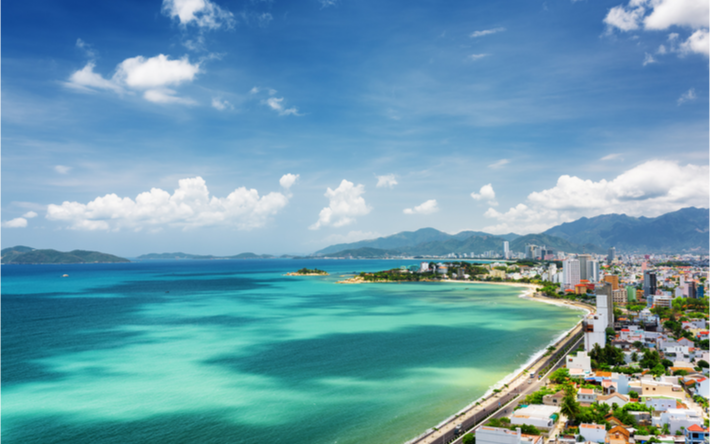 Nha Trang Bay
Situated on a white-sand beach among a constellation of dreamy turquoise hills, Nha Trang is gaining notoriety worldwide for its stunning beauty. However, Nha Trang is much more than just a beach; the city itself is modern, luxurious and clean, thanks to a recent increase in foreign development. Along the seafront promenade you will find boutique bars, chic resorts and gorgeous seafood restaurants that really give the city a holiday feel, but outside the tourist traps, Nha Trang offers a genuine taste of Vietnamese history. Buddhist temples, Gothic French churches and Champa-era historical sites can all be found a short drive away.
Nha Trang is just a short three-hour drive from Da Lat, which is easily accessible by taxi or motorbike. Public bus is also a great alternative and takes around 4 hours.
Must try:
Food: The cuisine of Nha Trang draws heavily on its proximity to the tropics and the ocean. This is a dream come true for seafood lovers; fresh squid, crab, lobster and prawns can be found everywhere in Nha Trang, but head away from Tran Phu beach for where the locals eat. Famous favorites include bun Cha Ca; thin rice noodles adorned with jellyfish and fresh herbs! (More on Nha Trang Day Trip)
Hoi An (3 Nights)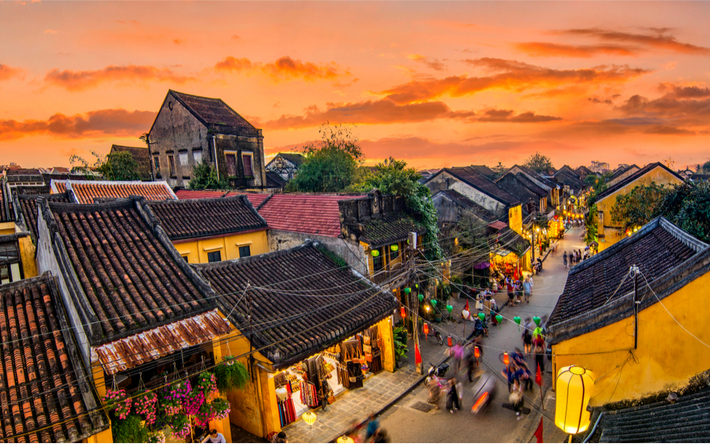 Hoi An - A view from above
If you see nowhere else in Vietnam, make sure you see Hoi An. You could spend a large portion of your three-week trip alternating between the ancient old town, complete with its world-class cooking schools, tailors and restaurants, and the many beaches which surround the town. Hoi An is synonymous with the glowing lanterns that adorn the old town, a nod to the accient traders who depth at this port town. You will also find vestiges of Japanese and French influences, from the crumbling facades of the colonial-era buildings, to the chewy udon-like noodles found in the town's most celebrated dish – cau lao. Hoi An is guaranteed not to disappoint, but don't just take our word for it- the town was awarded its title as a UNESCO World Heritage Site in 1999.
From Nha Trang, the fastest and easiest way to get to Hoi An would be to take a domestic flight up to Da Nang and to then take the short public bus ride to Hoi An. From Danang, you will easily reach the rest of central Vietnam via bus, train or motorbike.
Must Try:
Activity: One of the many reasons that tourists flock to Hoi An is its reputation as tailoring Mecca. On every road leading up to the old town, and indeed within the old town, you will find experienced tailors ready to whip up whatever your heart desires in a matter of hours. From custom suits, to wedding dresses, to traditional Ao Dai, to off-the-rack dresses and novelty t-shirts, you'll find whatever you need to fill that hole in your wardrobe in Hoi An. Just make sure you save room in your suitcase! (See our Hoi An Day Tour)
Danang (1 Night)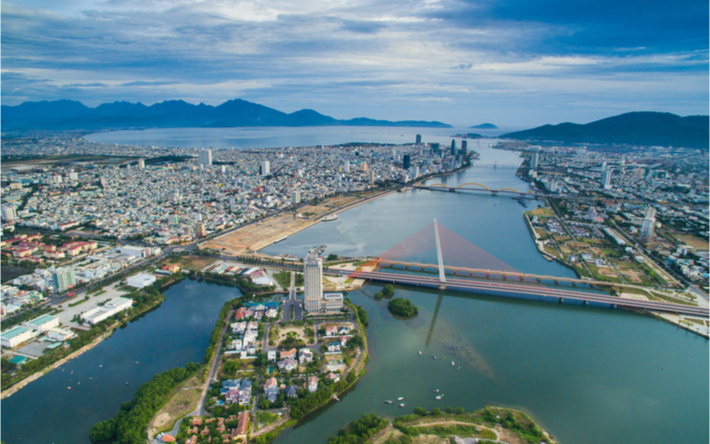 Da Nang city from above
What used to be a place to simply rest between Hue and Hoi An, is now one of Vietnam's most treasured cities. Danang's economy has boomed in recent years, with foreign investment flooding in to new shiny resorts, improved transport options, and a new airport. Situated over the beautiful Han river are a collection of modern bridges, including the famous 'Dragon Bridge', which spits fire every now and then.
Danang is the most easily accessible destination in all of central Vietnam, and is serviced by its well-connected international airport. Its location at the nexus of the country means that it is also well connected by buses and trains – as well as travelers and travel agents who can help you plan your route.
Must try:
Activity: As well as its bridges and world-renowned seafood, Danang is famous for its beaches. Whilst you're in Danang, check out My Khe beach – arguably one of Vietnam's most beautiful, and located just six kilometers from the city center. Here, you will be able to sunbathe to your hearts content, as well as try your hand at a rage of beach activities such as snorkeling, fishing and surfing. (See our Da Nang day trip)
Hue (1-2 Nights)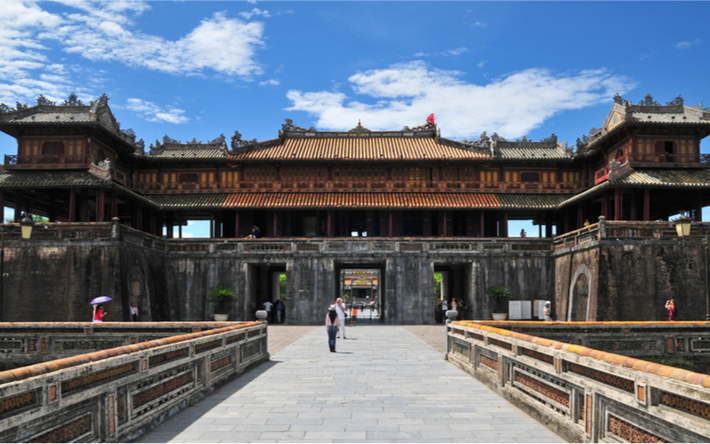 Hue Citadel
A short way north of Danang sits Hue; Vietnam's old Imperial capital. This relaxed town is bursting at the seams with history, both recent and ancient, which its citizens wear proudly. Although this town was the scene of one of the fiercest battles of the war, the town has seen waves of regeneration brought by tourism, and feels proudly optimistic.
From Danang, it is recommended to drive a motorbike trough the Hai Van pass to Hue, where you will be able to drop the bike. However, if you don't quite feel confident enough to drive, your next best bet is to take the Reunification Express train from Danang (as well as Hoi An, or even Saigon) to Hue. This old school train is comfortable and reliable, however tickets will cost you slightly more than if you were to take a standard public bus.
Must try:
Activity: Seeing the Imperial citadel in Hue is something all travelers to the region must do. Tickets cost 120,000VND, and with this price you will gain entrance to the sprawling Imperial compound, complete with detailed photo exhibits which show the citadel in its former glory. It's pastel palette, faded facades and ornate embellishments make for excellent photos, so don't leave your camera behind. As one of the heaviest hit areas during the war, bullet holes are still visible in some of the unreconstructed remains of the original structure. Guided tours in English, Spanish, Japanese, as well as a range of other major languages re available at around 9 USD per day. (See our Hue Day Tour)
Hanoi (2-3 Nights)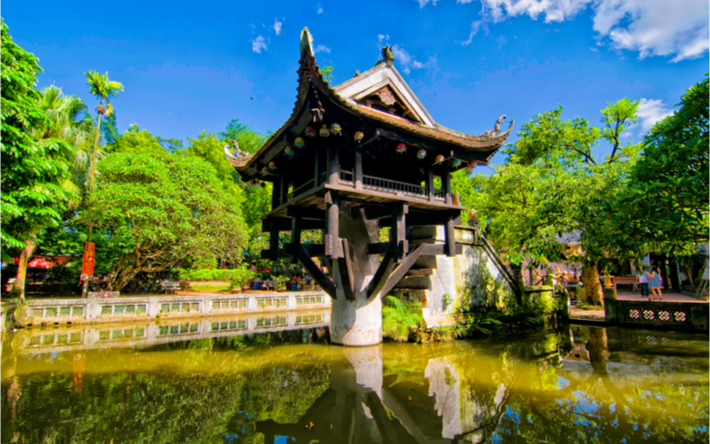 One Pillar pagoda in Hanoi, Vietnam
Hanoi defies explanation; no words can recreate the blaring horns, the pungent smells, the friendly people, nor the delicious food. Its smells and sounds threaten to disgust, yet intrigue with each coming day. And, it's location means that it's the perfect vantage point from which to explore the rest of northern Vietnam.
Must try:
Food: You might have heard of pho, Vietnam's national dish, but have you heard of it's fried, crispy, pillow-y cousin, pho chin? Literally translated as noodle pillow, pasted rice noodle is quickly fried until it puffs out into the shape of medium sized square pillows, when it is then added to a soy and fish sauced based broth, and topped with local greens and meat. It is simply to die for! You can find this local delicacy late at night in the flower market in Tay Ho District, or head to the nearby Truc Bach area, around 15 minutes from the Old Quarter. (See our Hanoi City Tour)
Cat Ba & Ha Long Bay (0-1 Nights)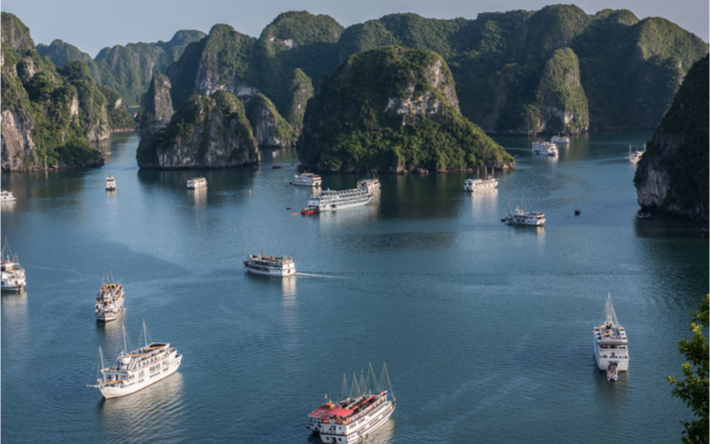 Boat Cruising in Halong Bay
Halong Bay is just about as picturesque as planet earth gets. This UNESCO World Heritage Site is only a short three-hour drive from Hanoi, and yet couldn't be further from the noise and pollution that Hanoi is renowned for. Enormous, limestone karsts coated in tropical jungle erupt from the turquoise surf, amidst the backdrop of the huge open sky. Dotted along the bay are colourful traditional fishing villages who have lived there for generations, rarely, if ever, venturing onto land.
Just across the bay lies peaceful Cat Ba, perfect for a boat trip around the karsts and accessible both from Halong Bay and Hanoi alike. Cat Ba is also well known for its large national park, which is home to a variety of exotic birds, plants and mammals, including the last 58 of the golden-headed langur. The island is also home to not one, not two, but three beaches, and an ever-increasing number of seafood restaurants and cheap, backpacker bars.
Hanoi is heaving with tour operators, who can easily arrange one day or multi-day trip to either Halong Bay or Cat Ba. For a one-day trip, booking a few days in advance is recommended, and buses usually leave from the Old Quarter early in the morning. A return bus ticket to either destination usually goes for around 25 USD return, and tours around the bay can be anything from 7 USD including lunch, to private boat tours lasting for a few days of around 2-300 USD.
Must Try:
Tours: Orchid cruises is listed as one of the most well-known names in the Halong Bay boat tour industry. Their boats have a hot tub, and both their one and multi-day cruises stop to alternative places to the standard Halong Bay route, meaning that you're likely to miss out on other tourists. Day cruises start at 150 USD in low season, and a two-day-one-night trip for two people can go from anything around the 250 USD mark to 500 USD depending on the season and room type.
Sapa (1-2 Nights)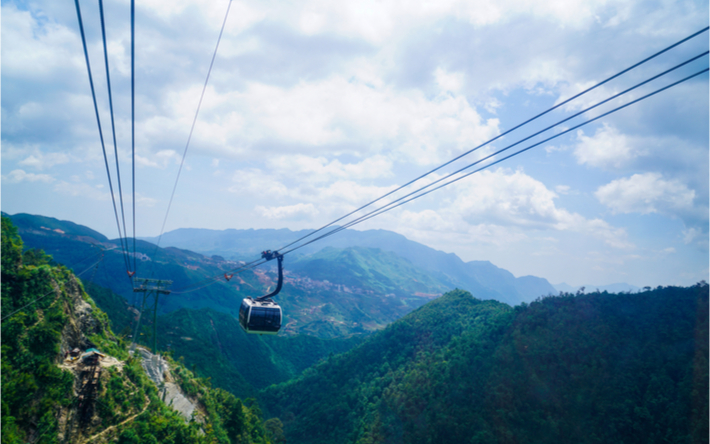 Cable car to the Fansipan summit in Sapa
A visit to Sapa is to see a glimpse of old Vietnam. Rolling rice terraces, ancient hill tribes and traditional stilt houses amongst the backdrop of mist are why thousands of tourists visit Spa every year. Nestled amongst the Hoang Lien Son mountain range, Southeast Asia's tallest peak, Fansipan sits just outside of Sapa town, so hiking and nature enthusiasts will be well sated here.
The easiest and most reasonable way of reaching Sapa is via a nine-hour overnight train from Hanoi Station to Lao Cai. Trains are comfortable and relatively cheap, and the views are magnificent if you travel during some daylight hours. Tickets can be booked in advance from Hanoi Train Station on Le Duan Street, or via a ticket merchant or tour operator at extra cost. Once in Lao Cai, Sapa town is just a 45-minute drive away via minibus or taxi, and once you're in Sapa, most things are reachable by foot.
Must Try:
Activity: The main attraction of Sapa is the ceiling of Vietnam, Fansipan mountain. Grab a taxi or minibus to Hoang Lien National Park (More about national parks in Vietnam), around 19 kilometers way, where you'll find the base of the mountain. It is advisable to bring waterproof clothing and good shoes, as changeable weather and rough terrain can present difficulties throughout the year. Endurance is a must, however this is not a particularly advanced hike, and all levels of expertise are welcome to attempt to climb the mountain, which can be done in a day. (Try our Sapa market day tour)
Last update:
Ready to start your holiday?
Want to customize your own trip based on this itinerary? Contact our team using the form below!
Request a free quote
READ NEXT