10 Days in Vietnam: A First-Timer's Complete Itinerary
Welcome to Vietnam – a land of infinite diversity, complexity and beauty. It is a country that has not long shed its image as a war-torn state, and is now racing to become one of the most desirable tourism destinations the world over.
Although the country is only small, its long shape means that's it's spread over a huge variety of terrains; from tropical rain forests and sand dunes in the south, to rolling rice terraces in the north, to UNESCO World Heritage Sites and white-sand beaches in the center.
You could spend the rest of your life discovering new things in Vietnam. But, if you're pinched for time, here's what we think you should see with only ten days!
Our itinerary is good for:
Family with children
Young couples
Solo traveler
Hanoi (2 Nights)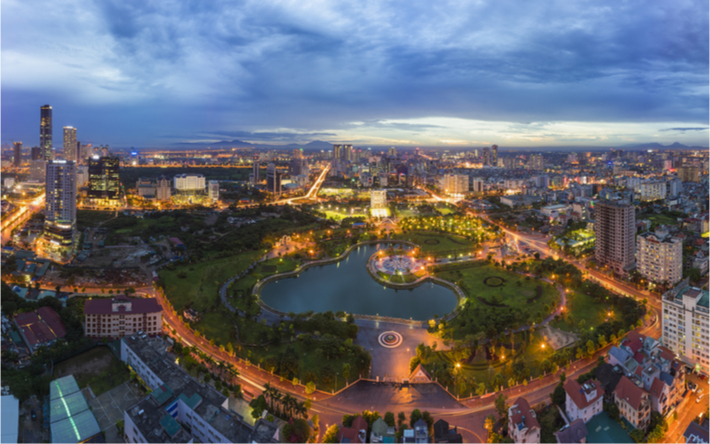 A view from Hanoi skyline
All trips to Vietnam should start in the nation's capital – Hanoi. This is a city full of life; a veritable feast for the senses. Nowhere else on earth will you find old ladies selling fruit from a basket next to a Korean cosmetic store situated in a French colonial mansion. The epicenter of Hanoi is heaving with commerce – from local pho stands, to national chains, and in recent times, more and more international conglomerates are creeping in. However, there's more to Hanoi than just shopping. There are serene temples and lakes all over the city, offering respite for the hard-working Hanoians.
Must try:
Nightlife: A favorite with locals, expats and the odd savvy tourist, Spy Bar is always excellent craic. Once the bia hoi's (fresh street side beer joints) are shut down at midnight, make your way to this perfect late-night bar, located just on the edge of the Old Quarter at 12 Nguyễn Hữu Huân. If it looks closed, try knocking on the shutters and wait to see if a hand pops out, beckoning you in through the red curtains. Inside, the small, atmospheric bar will be happy to serve you until the wee hours, offering a huge drinks menu, sports channels and even speakers hooked up to YouTube, so you can play your own music!
Food: If you're only in Vietnam for a short time, trying the nation's favorite dish – pho, is a must. The noodle soup is best tried in Hanoi, it's cultural homeland, where it's clear Chinese influences can be observed. A light, savory broth infused with cinnamon and other warm spices is lashed over a bowl of thin rice noodles, and then topped with meat; 'bo' for beef and 'ga' for chicken, and then adorned with fresh herbs. On tables at pho stands you will usually find some combination of limes, fresh chilies, chili sauce and fish sauce, that you can add to your taste. Although pho is traditionally a breakfast dish, Hanoians eat this pho morning, noon and night, and a bowl will set you back between 20,000 and 35,000VND.
Hue (1 Night)
Fishermen on the famous Perfume River (Huong River). The river is also known with many other names such as Lo Dung, Linh, Dinh, Kim Tra, flows accross Hue city.
Pronounced hway, Hue is a must for any traveler to Vietnam interested in history. The city was badly damaged during the fighting that the country saw during the 20th century, however vestiges of its traditional past can be easily seen. The old imperial citadel of the 19th century still stands at the center of the city, offering an insight into Hue's former glory. However, the rest of the city has also recovered well, helped in no small way by the steady rise of tourism to the area. By virtue of this, cafes and bars aimed at tourists exist near the banks of the Perfume River, and travel options are easily available.
It is possible, and extremely fun, to make Hue the second stop on your ten-day Vietnam trip by taking the train from Hanoi. Take the Reunification Express Train overnight from Hanoi Train Station and arrive in Hue the next morning, after watching the beautiful scenery of Vietnam pass you by. Tickets for a soft sleeper bed go for just under 60 USD one way, but are well worth it for the romance and comfort of the journey.
Must try:
Activity: A visit to the citadel is an absolute must for all visitors to Hue. Tickets cost 120,000VND, which will grant you access to the sprawling grounds, once home to the emperor of Vietnam and all of his cronies. Inside the walls of the jaw dropping compound, you will see fascinating images of the citadel during its glory days, complete with knights on horseback roaming the grounds. The citadel was badly hit during battles with both the French and the Americans, and although the citadel has been well reconstructed, it is still possible to see bullet holes in the original structures.
Food: The cuisine of Hue is renowned all over Vietnam. Influences from the French, Chinese, as well as its proximity to Laos and the rest of Southeast Asia has resulted in bold flavors and sophisticated cooking techniques found nowhere else. Head to the indoor market, set along the banks of the Perfume River, were you will find a whole range of traditional Hue foods, such as com hen (clam rice), and bun bo Hue (Hue beef noodle soup).
Hoi An (2 Nights)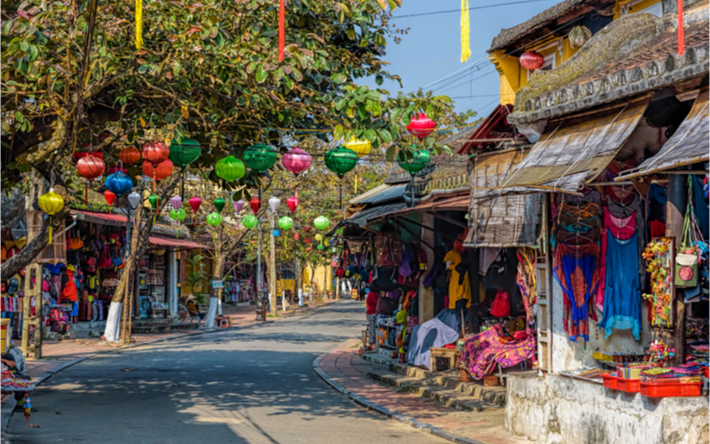 Colorful street with shops in Hoi An
A trip to Vietnam would be not complete without a visit to Hoi An – undoubtedly Vietnam's premier destination. Here you will find beautiful beaches with amongst the cheapest day rates for shaded sun loungers in the whole of Southeast Asia, delicious food, and a UNESCO World Heritage Site as the local Old Town.
The Old Town is the atmospheric cultural center of Hoi An; where lanterns illuminate ornate Japanese bridges amongst quaint, rustic French colonial townhouses. There really is nowhere else like here on earth, and one could spend an entire month here alternating between the white-sand beaches, divine local restaurants and world-class tailors that the town is so renowned for.
Getting from Hue to Hoi An is very easy, and usually great fun. We recommend hiring a motorbike for the roughly seven hour drive between the two locales, which will take you via the amazing Hai Van pass which winds up, and then quickly down a small mountain range, offering panoramic views of nearby Danang. However, it is also possible to take the Reunification Train (mentioned above) between Hue and Hoi An, and buses travel regularly (and cheaply) between the two.
Must try:
Activity: For foodies, or simply anyone who likes to eat, Hoi An is heaven on earth. We recommend trying out Morning Glory at one of their three branches throughout the city, for a taste of authentic, high quality Hoi An food in a relaxed yet upscale environment. The restaurant also offers cooking classes, where you will learn how to cook some of the regions classic dishes, such as bahn xeo (a crispy savory crepe) and various noodle dishes.
Try our Hoi An day trip
Danang (1 Night)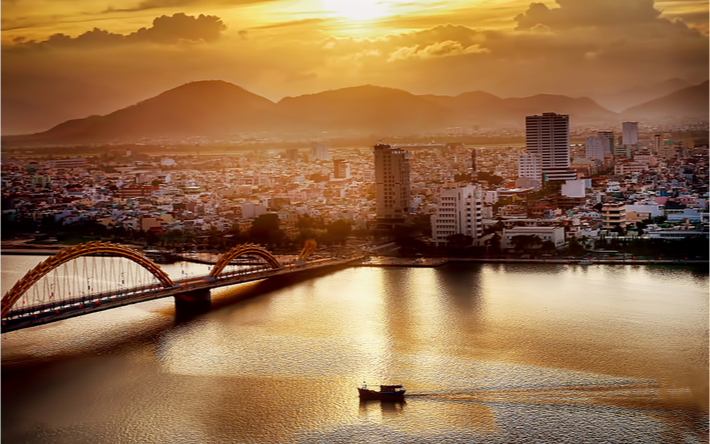 Da Nang city at sunset
Danang has long been overlooked as a provincial backwater, only to be seen as a stopover between Hue and Hoi An. However, those days are long over, as domestic and international investment has mushroomed over the last few years, resulting in a staggering regeneration of the formerly sleepy seaside town. Restaurants, bars and shiny new resorts now line the shore, and Danang is becoming hugely popular with expats and tourists from both Western and Asian countries.
Danang is hugely well connected; its location in the center of the country means that train and bus routes run directly through Danang regularly. It also boasts the third largest airport in the country, servicing regular flights to and from domestic and international destinations such as Singapore, Seoul, and KL. From Hoi An, Danang is just a short one-hour drive away, so taxis or public buses are your best option, unless you're brave enough to rent a motorbike for the short coastal drive!
Must try:
Activity: As well as delicious food and gorgeous beaches, Danang is also famed for its collection of interesting bridges, which are spread around the city. Connecting both sides of Han River are Dragon Bridge, Han River Bridge, Tran Thi Ly bridge, each with its own architectural style. In 2019, another special bridge called the "Golden Bridge" has grown to be a viral sensation as it sits 1,400m above sea level, offering majestic views of the surrounding countryside from a bridge platform apparently held up by two enormous concrete hands.
Try our Da Nang day trip (from $55 US/pp)
Nha Trang (2 Nights)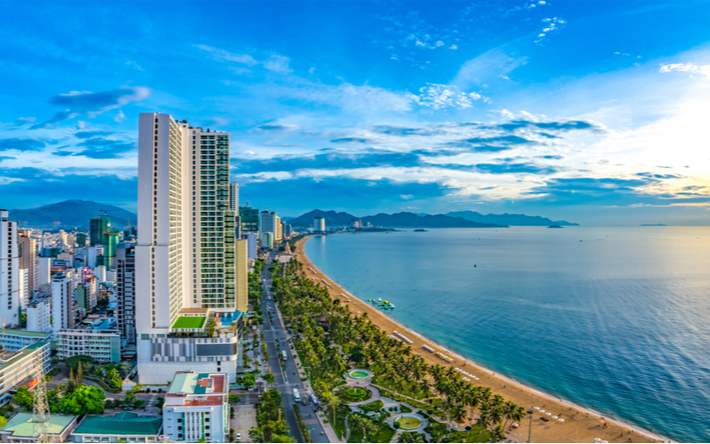 Nha trang beautiful beaches
The coastal city of Nha Trang is framed by its backdrop of romantic blue hills and white sandy beaches. It is famed for its gorgeous coast, as well as its range of historical sites, including Champa relics, Buddhist temples and French churches. Investment has poured into the city in recent years making the city dynamic and modern, with just the right concentration of nightlife.
Nha Trang is best reached by domestic flight from Danang, which takes around an hour and can cost as little as 500,000 VND one way when booked in advance. It is also possible to take the bus, which takes ten hours, however those who enjoy traveling in comfort may find the journey a little unpleasant.
Must try:
Activities: Just over an hour's drive away from Nha Trang is the tropical paradise of Doc Let. Here you will find sand as fine as powdered sugar, swaying palm trees and sparkling azure surf, all without the hustle and bustle of Nha Trang's promenade. Despite its beauty, the beach has remained relatively untouched by tourism; a feature that makes Nha Trang an alluring place to be for your beach escape to Vietnam.
See our Nha Trang day trip (price from $33 US/pp)
Ho Chi Minh City (2 Nights)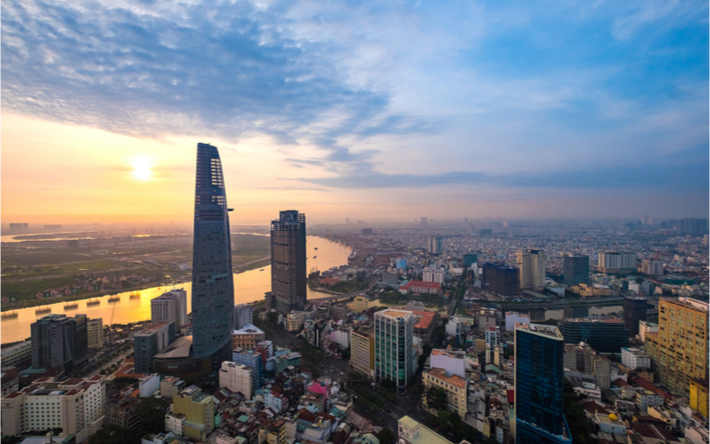 View from a roof of Sai Gon Center building
Known by its roughly eight million residents as Saigon, Ho Chi Minh City is the dizzying, sprawling, cultural and financial hub of Vietnam. Featured in countless literary classics, as well as blockbuster movies, Ho Chi Minh City is the perfect way to round off your trip to Vietnam.
Vietnam's largest airport, Ho Chi Minh's Tan Son International is served by many international carriers and offers daily direct flights to and from destinations such as New Zealand, Hong Kong, Dubai, Melbourne, Frankfurt and London, so onward travel will not be an issue from the city.
Must Try:
Activities: If you only get to do one things whilst in Saigon, it should be to check out the city's War Remnants Museum, located centrally in District 1. This excellently curated exhibit displays artifacts left over from one of the darkest moments in the 20th century. Outside in the grounds you will find excellently preserved tanks, missiles and other war vehicles, whilst inside, varying displays tell a side of the story that rarely gets heard in the West. The whole sobering museum pays tribute to the bravery, courage and resilience of the Vietnamese, which will add a special context to your memories of your trip.
View our Ho Chi Minh city full day tour (from $44 US/pp)
Last update:
Ready to start your holiday?
Want to customize your own trip based on this itinerary? Contact our team using the form below!
Request a free quote
READ NEXT