1 Week In Northern Vietnam: The Best 7-Day Itinerary
Northern Vietnam is home to its most famous landscapes; its rippling mountains, towering karts and cascading rice terraces. As well as its iconic scenery, northern Vietnam's cultural kaleidoscope is equally diverse. The region is home to most of the country's fifty-odd minority cultures, adding splashes of color and staggering diversity to the green, lush landscape.
The meandering roads winding north from Hanoi quickly unveil a peaceful and traditional world, worlds apart from Vietnam's blaring, high-octane capital. You could spend months exploring it all, but if you were looking for just a taste, in five to seven days you can see a very satisfying portion of it.
Our recommended itinerary for 1 week in northern Vietnam is best fit for:
Solo travellers
Young couples
For family with children or senior travelers, you can always remove some of the nightlife activities.
Hanoi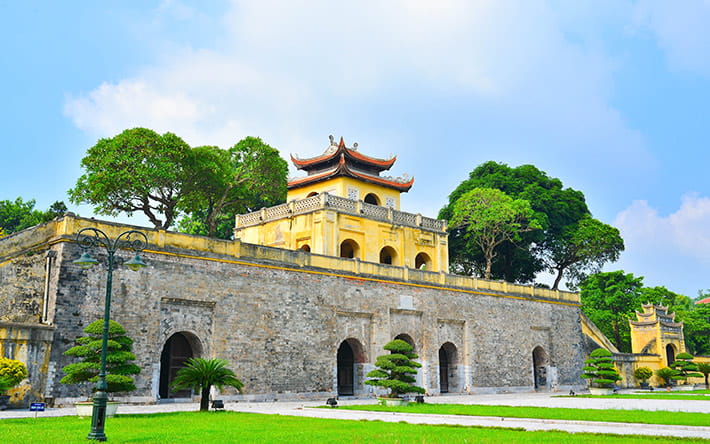 The Imperial Citadel of Thăng Long - one of the must-see attractions in Hanoi
All trips to the north should start in Hanoi. A chaotic collection of smells and noises, a mess of motorbikes and merchants whizzing past your vision, and secret alleyways give way to serene temple, cafes and lakes. Hanoi's fascinating, if complicated past can be seen in the Nôm characters adorning ancient walls throughout the city, as well as its leafy boulevards; vestiges of the French colonial period. And, due to the its location, Hanoi is the perfect vantage point from which to explore elsewhere in the northern region.
Must try:
Nightlife: Affectionately referred to as 'beer corner'; the intersection of Hang Giay and, Hang Buom streets is as wild and lively as anywhere in Thailand or Hong Kong. Open until late, seven days a week, sit down to a cold, cheap beer (prices start from 4000 VND or 0.2 USD) and a plate of spring rolls or hotpot, and watch the steady stream of punters pass you by. It's something that every visitor to Hanoi must try at least once, if you can stand the noise.
Food: Hanoi's staple dish – pho, is as synonymous with Hanoi as the chaos and motorbikes. A clear nod to the city's cultural heritage, this noodle soup is savory, meaty, with just a hint of sweetness from the cinnamon seasoning used. Unlike the heavier food of the south, pho is a light dish that can be eaten at any time of day, and certainly is – walk down any street of Vietnam's capital at morning, noon or night, and you will bump into at least one shop full of hungry patrons slurping down a bowl, often for no more than 1.5 USD. (Recommended: Pho Thin at 13 Lo Duc or Pho Ly Quoc Su at 10 Ly Quoc Su Street)
Shopping: Hanoi is an incredible place to go shopping; the entire Old Quarter is teaming with independent merchants and tailors, selling an infinite array of goods. For a more concentrated selection, check out the weekend night market, which stretches from Hang Dao Street to Dong Xuan Market during Friday and Saturday nights. It is always heaving with vendors and punters alike, amongst a throng of underwear, dubiously labelled 'designer' perfumes, and exciting food stalls selling cakes, fruit, juices, as well as more adventurous delights such as octopus tentacles.
See our day trip in Hanoi for a detailed itinerary of what you can see and do in 1 day!
Ha Long Bay & Cat Ba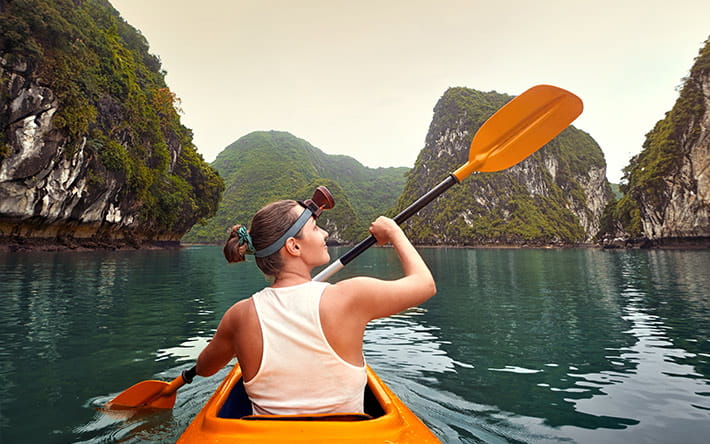 Kayaking through the karsts and emerald water in Halong bay, a joyful experience.
Halong Bay is a must visit for any trip to the Northern part of Vietnam. Comprised of thousands of islets and grottoes rising out of emerald water, the Bay is a true master piece of nature and has made its name on the new World's 7 Wonders. Thanks to the many new highways that have sprung up in recent years, it now takes only 2 hours to get to Halong Bay from Hanoi.
Must Try:
Food: Seafood (hai san) in this area is abundant and delicious. Seafood hotpots, as well as stews, fresh and fried dishes are immensely popular and plentiful in both locales. Cha Muc (squid sausage) is the most popular dish of the region, and is comprised of ground local squid with herbs and spices, fried into a sausage patty.
Sapa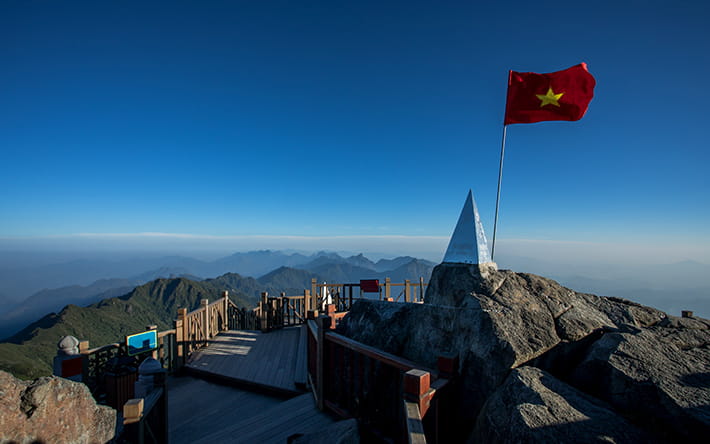 Mount Fansipan in Sapa - The highest mountain in Vietnam and Indochina peninsula at 3,143 meters (10,312 ft)
Sa Pa is one of Vietnam's most treasured natural areas – home to the Fan Si Pan; the country's highest peak and also known as Indochina's rooftop. The weather in this region can often mean that plumes of mist can obscure the view, but even then, local hill-tribe people fill the town with color. The small town welcomes thousands of visitors per year and serve as common home to a variety of colorful and authentic markets and restaurants and the scenery and hiking opportunities more than make up for the modern development.
The best way to reach Sa Pa used to be via the overnight train from Hanoi. The journey lasts around nine-hours, and will take you from Hanoi Train Station to Lao Cai. However it is not more convenient to take an overnight bus (7 hours) or day bus (5 hours) and you can arrive directly in Sapa town. Getting around Sa Pa is mostly done on foot as everything in the town is in walking distance.
Must Try:
Activity: The most prominent attraction in the area around Sa Pa is Fan Si Pan, Vietnam's highest mountain. Fan Si Pan can be found 19 kilometers away in Hoang Lien National Park, which is an attraction in itself. Rough terrain and unpredictable weather can present difficulties to those without good fitness, and those with mountain climbing or trekking experience will enjoy this ascent the most. The newly built cable car can also take you straight to the peak as well.
Food: Thang Co is a horse meat soup traditionally eaten by the Hmoong. A recipe that dates back hundreds of years, whilst foreigners may shriek in horror at the thought of eating horse (although it remains a delicacy in parts of Europe), this ancient and nutritious recipe is the very essence of authentic Sa Pa. The meat and bones are stewed in a pot with over 12 herbs and spices, such as cardamom, ginger, citronella, anise and cinnamon for over 12 hours. It is served with fresh vegetables and a special red hot pepper name Muong Khuong.
Homestay with locals
Try our Sapa market - day tour to experience the real local daily life.
Last update:
Ready to start your holiday?
Want to customize your own trip based on this itinerary? Contact our team using the form below!
Request a free quote
READ NEXT