1 Week in Central Vietnam: A 7 Day Itinerary to Hue, Da Nang and Hoi An
Central Vietnam is the country's most special part; one that combines both world class beach and UNESCO world's heritage site; culturally unique facets and a jungle of east-meet-west old quarter, highly preserved national parks and and sophisticated cuisine. Here you will find imperial cities, royal tombs and historical landmarks, such as Vietnam's DMZ, which divided the country into two during the war. This area is at once traditional and emerging, and travelers would be wise not to overlook it for Vietnam's metropolises; Hanoi and Ho Chi Minh City.
Due to the extremely narrow width of the country, the major points in the central Vietnamese region are all close and well connected by train and bus. It is also possible to rent a motorbike and drive between the three locales listed here; Da Nang, Hue and Hoi An. Each destination is between a two/three-hour drive from the next.
This itinerary is best fit for:
Beach lovers
Cultural explorers
Young couples and families with children
Da Nang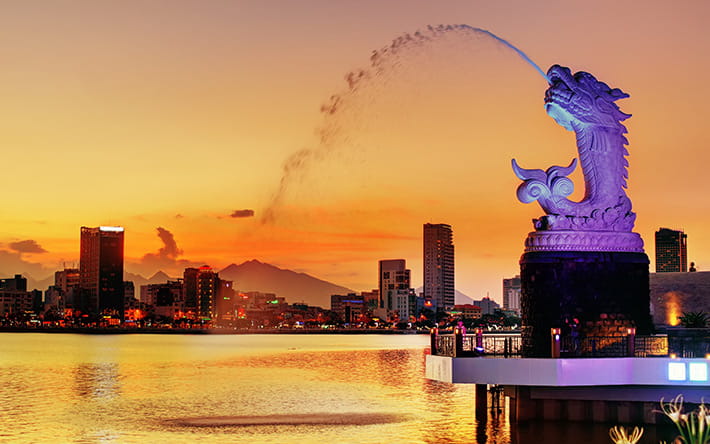 Han River in Da Nang. As of June 2019, there are six bridges that connect the city including Thuan Phuc Bridge, Han River Bridge, Dragon Bridge, Tran Thi Ly Bridge, Nguyen Van Troi and Tien Son Bridge.
Danang was once forgotten amongst its Central Vietnamese neighbors, relegated as a provincial backwater. However, now times have changed, and as development has seen the city's economy boom in recent years, plush sky rises and boutique hotels are popping up across the city, and the city's beaches are gaining the reputation they deserve. Admittedly, Danang isn't home to many conventional tourist attractions, but the city is certainly a safe bet for a quick stop during your trip to central Vietnam.
Da Nang is well connected via its international airport. In recent years, massive development in commercial flights have sped up the visit to the city, with carriers from all over the world making direct flight paths to the city. One can now fly direct from South Korea, Malaysia, Thailand, to name a few to Danang International Airport. (Vietnam Airlines and VietjetAir are currently operating daily flights from Singapore, South Korea and Thailand to Danang)
Must try:
Activity: My Khe Beach is consistently voted as one of the world's most beautiful beaches, and sits pretty just a short drive from central Danang. With the increased development of Danang, My Khe has gained recognition by institutions such as Forbes, who recently named My Khe as one of the six most beautiful beaches in the world. Like the rest of Danang, plush resorts and seafood restaurants are appearing, and nowadays it is possible to enjoy water sports here, such as jet-skiing and snorkeling. (See our beach tours)
Food: Danang's most famous dish is Mi Quang, turmeric tinted rice noodles topped with shrimp, boiled quails' eggs, and roast pork, though these are often substituted for fish, chicken and beef. Popular with tourists and locals alike, this dish is served around the clock n local restaurants and street side stalls, and comes served in bowl of meat-bone broth and is garnished with the ubiquitous smattering of fresh herbs, peanuts, and chili, occasionally with some sesame rice crackers thrown in.
Hue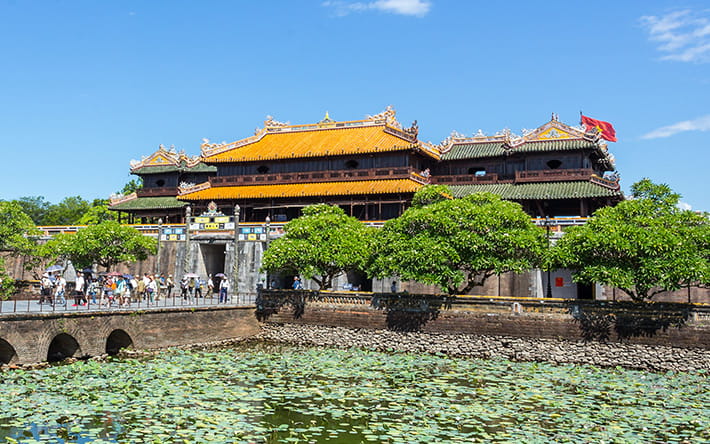 Hue Imperial Citadel, a must visit attraction in Hue. In 2015, Hue welcomed about 1,5 milion visitors to the city and its cultural heritages.
Hue (hway) is quaint, calm and convivial, with a bitter and blood history. Hue took the brunt of the bombings during the war, and the city's abundance of tombs and graves along the perimeter of the city act as a reminded to the great losses the city suffered. However, Hue is a city proud of its history, and wears its past with pride – the great 19th century citadel marks the center of the town and is a staggering testament to its imperial heritage. Old bridges frame the city's beauty, connecting across the iconic perfume river which meanders through Hue.
It is possible, and extremely fun, to make Hue the first stop on your central Vietnam trip by taking the train from Hanoi. Take the Reunification Express Train overnight from Hanoi Train Station and you will arrive in Hue the next morning, after watching the beautiful scenery of Vietnam pass you by, rather than the inside of a plane. Tickets (for a soft sleeper bed) go for just under 60 USD one way, but are well worth it for the romance and comfort of the journey.
Must try:
Activity: The DMZ (demilitarized zone) which divided the country for almost twenty years during the tensest moments of the 20th century lies not far from Hue, and is accessible private or public bus (although tours, with English speaking guide are the most popular). Here you will take a journey to a place where you will learn about one of the defining moments of living history, and its repercussions for life today. (See our Hue day tour)
Food: As with any city comprised of such interesting contrasts, the cuisine of Hue is outstanding. Bold flavors and sophisticated cooking techniques have rendered Hue one of the premier culinary destinations in Southeast Asia – and that's saying something. Literally translating as 'Hue beef noodles', the streets of Hue (and, indeed, the rest of Vietnam) are heaving with vendors peddling the famous bun bo Hue.
Hoi An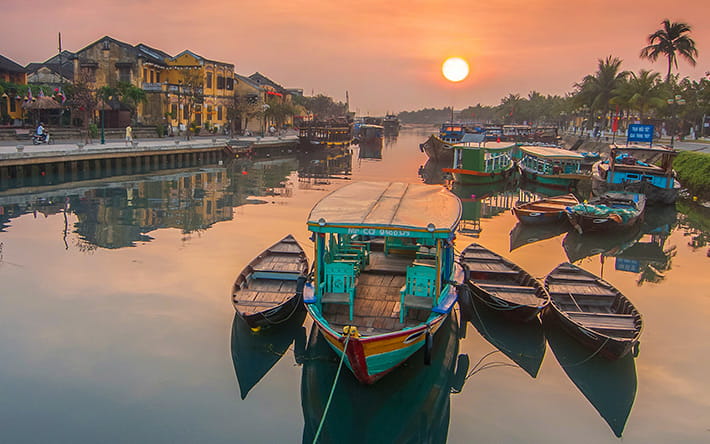 Hoai River in Hoi An at sunset. Boat tours are available to visit local traditional villages accross the river.
Hoi An is Vietnam's most unmissable destination. It's heritage as a prominent Vietnamese trading port has resulted in a fascinating mismatch of styles, originating from Chinese, Japanese and French influences. Ornate Chinese temples sit across from striking Japanese bridges, framed by decaying colonial French townhouses.
From Hoi An it is easy to travel south. Either travel back up to Da Nang (via public or private bus) and take the 1,15-hour flight to Ho Chi Minh City, or take the long (15-16 hour) train ride along the Vietnamese coast. It is also possible to take a sleeper bus, but be warned – only the hardiest of travelers should attempt this mode of transport for journeys of this length as they can be very uncomfortable.
Must Try:
Activity: Save room in your suitcase for Hoi An. Any piece of clothing of footwear can be made here quickly, inexpensively and to a high standard, just ask the approximately 500,000 people who get stuff made here annually. The old town is also home to workshops that can show you how to stitch something simple such as a purse, or lantern making workshops where you'll be able to take home your own version of the iconic Hoi An lanterns. (See our Hoi An day tour)
Food: Hoi An's most famous local delicacy is Cao Lau: a blend of rice noodles, pork and bean sprouts garnished by fresh herbs and pork gravy. Countless stalls selling the unique dish can be found all over the city and old town. What makes cao lau truly a Hoi An specialty is that the noodles must be cooked using only the water from local Cham dynasty wells, and the vegetables must be sourced from local Tra Que village. Prices for a bowl range from 10,000 VND to 50,000 VND.
Last update:
Ready to start your holiday?
Want to customize your own trip based on this itinerary? Contact our team using the form below!
Request a free quote
READ NEXT