The 7 Best Ethnic Markets in and Near Sapa
Iconic Sapa is the perfect blend of all of Vietnam's eras. Beautiful, green nature of rolling hills have been long inhabited by some nine main ethnic minorities of Vietnam's 54, who punctuate the countryside with their colourful clothing. Tourism is now a common feature in Sapa, but for now, there are still many authentic and genuine ways to enjoy the local life and natural beauty of Sapa. Our favourite thing to do in Sapa is to rub shoulders with the locals and to see what amazing local produce is on offer – markets! Here are seven of our favourites.
1. Sapa Market: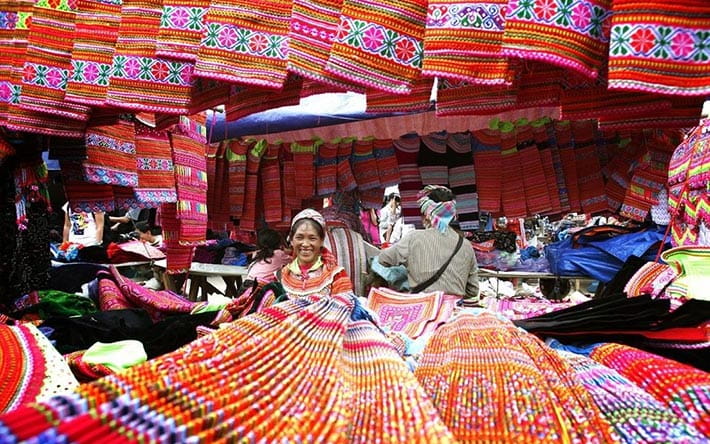 Sapa market
As the name might suggest, Sapa market is one of the most popular and most visited of all of Sapa's myriad markets. Here, Dao Do, Giay and H'Mong ethnic people come to sell their gorgeous embroidery, which comes in many forms and styles. As well as textiles, Sapa Market is a great place to check out local fruit and vegetables such, as well as unusual spices found nowhere else in Vietnam!
2. Bac Ha Market: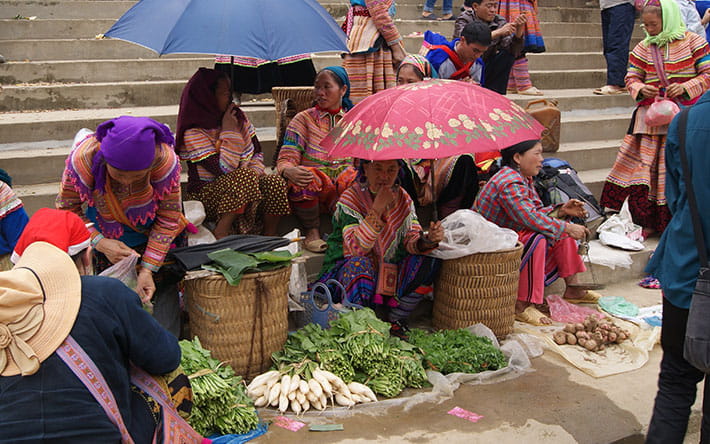 Bac Ha market - 70 km away from Sapa
Approximately 70 kilometres from Sapa town sits Bac Ha Market, which may seem like a long distance to travel for a market, but trust us, it's one of Vietnam's best. Typically assumed to be the biggest and most vibrant of northwest Vietnam's myriad markets, Bac Ha is worth it for the trip over alone. You will pass through steep mountain roads, plunging hilltops, and green, verdant countryside until you reach this market, which is like something straight out of an anthropologists textbook. Locals wake up at the crack of dawn to carefully prepare their stalls for the next day. You will find anything from amazingly fresh fruit and vegetables (no pesticides here, thank you!), as well s rare materials, brocade, and even homemade booze and hot meals. In our opinion, you don't want to make the trip there not to try some of the local food – it's a must!
3. Muong Hum Market: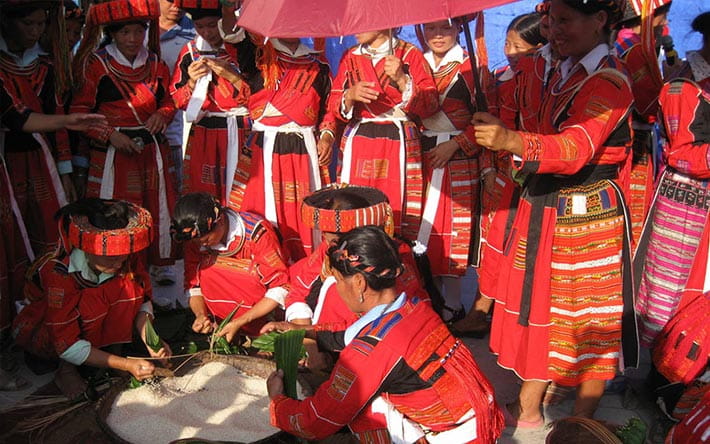 Rice trading at Muong Hum Market
A favourite amongst locals and tourists alike, this buzzng market is situated in Bat Xat District and is held every Sunday. It's usually rammed with the local minorities such as Dao Do, H'Mong, Giay, as well as Dao Tuyen and Ha Nhi people, whose colourful dresses punctuate the beautiful green valley making for a stunning visual experience. It is common to see people and horses passing the streams in their beautiful clothing, so bring your camera (but make sure you have permission to photograph people up close without their permission).
4. Sapa Love Market :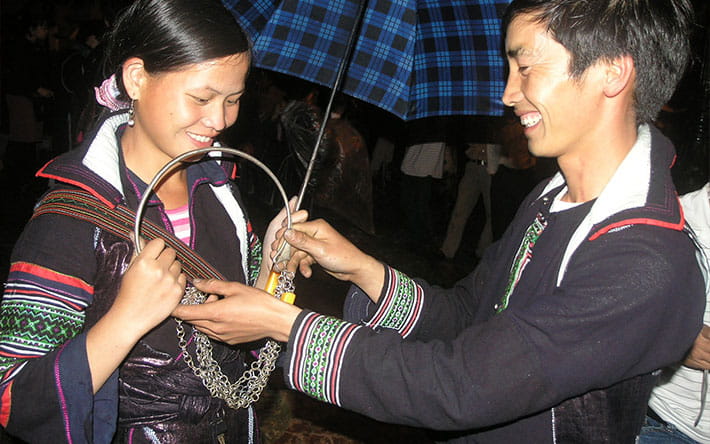 Yes, you read that correctly. Sapa's ancient market of love may seem unusual to those from Western culture, but this market has been a vital element of the ancient cultures of Mong and Dao people for centuries, and acts as a way for the members of these ethnic groups to meet and greet each other, and to, well, check each other out. Not unlike in Western culture, Saturday night sees youth from all villages flocking to the centre of the province to Lao Cai, where the market is held, to suss each other out. If you're lucky enough to be in the area, you'll be able to hear the small bells adorning the clothes of certain groups, as well as music blaring out from hand held radios. That night, participants of the market communicate in local song, play games and enjoy other communal activities together. If a match is made, marriages take place the following spring. Despite the connotation of the word 'market', no buying or selling takes place here, however it is still common practice for the bride's wife to receive a dowry.
5. Can Cau Market: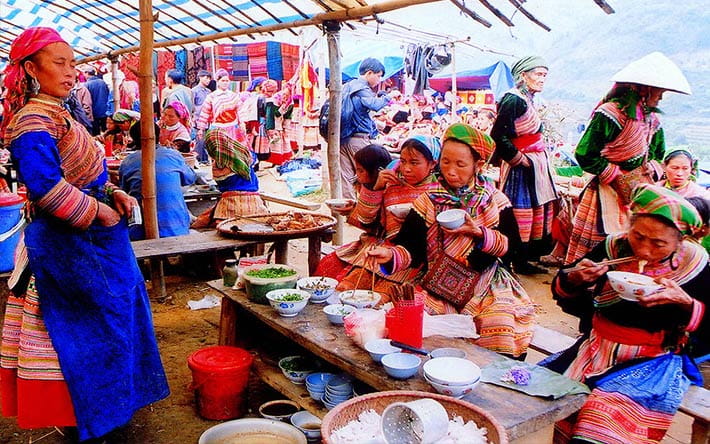 People enjoying local foods at Can Cau Market
Can Cau market is situated outside of Sapa proper in Can Cau Ward. This street side market amongst the rice paddies is an important place for Muong Hoa ethnic people to trade and meet each other. Operating on Saturday and Sunday every week, Can Cau market is separated into different areas selling produce, homeware, textiles and brocade products, as well as hot food and drinks.
6. Coc Ly Market: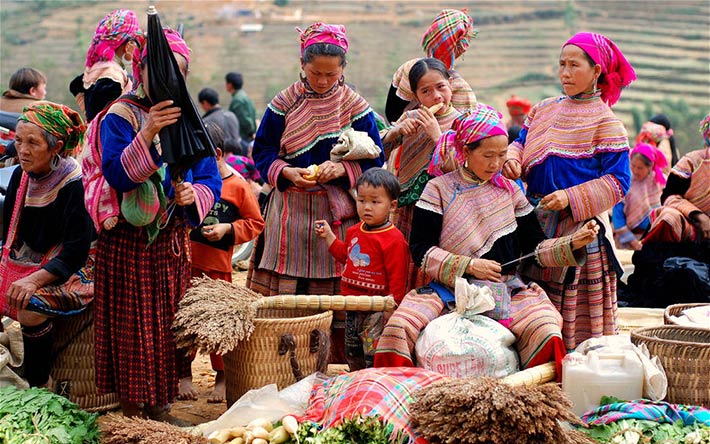 This buzzing market serves ethnic communities who reside in the Bac Ha's north west in Lao Cai Province. This market is held every Tuesday near the banks of the Chay River. Here, you will find all of the ubiquitous products and goods that you'd find in the other markets listed, as well as unusual specialties of the forest; mushrooms of all varieties are sold here, as well as fresh honey, traditional clothing and adornments in the styles of local tribes. The buying, trading and selling of domestic animals also takes place here, so expect to see every member of 'Old McDonald's Farm' present here at Coc Ly.
7. Cao Son Market: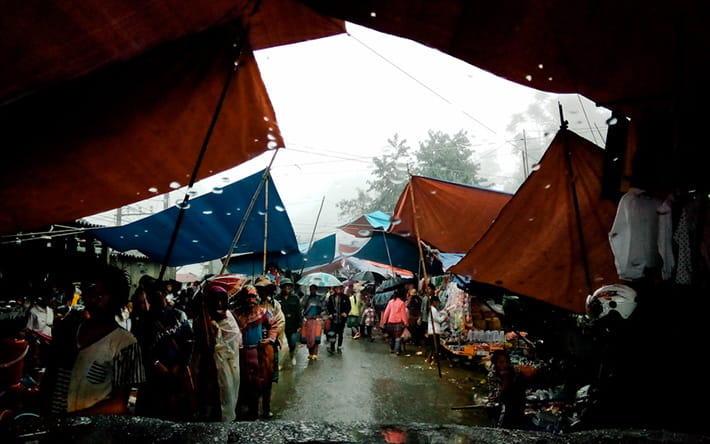 Last, but by no means least, Cao Son market is located about 80 kilometres from Lao Cai City. The Mong, Phu La, Dao and Han Den people are the main traders of this market, which takes place on Wednesday each week. From hours before daybreak each and every week, traders cross the land, often by foot or horseback, carrying their goods in large wicker baskets known as "gui" on their back. The Mong and Dao girls arrive in stunning national costume and often carry embroidered parasols to protect their skin from the elements.
Last update:
READ NEXT