9 Must-try Authentic Local Foods to Eat in Hanoi
Hanoi is the hectic, heady and haphazard capital of Vietnam. It can be a daunting place – crossing the road can take significantly longer than it takes to flag down a decent meal. But, Hanoi's chaos is part of what makes it a uniquely wonderful city, as is the food. This is a city that takes the phrase "street food" seriously – food is literally on every corner of every street in every town. Each block is packed with vendors, who typically make one dish, and make it well, packing the street with punters slurping down noodles on tiny, brightly colored plastic stools.
1. Pho: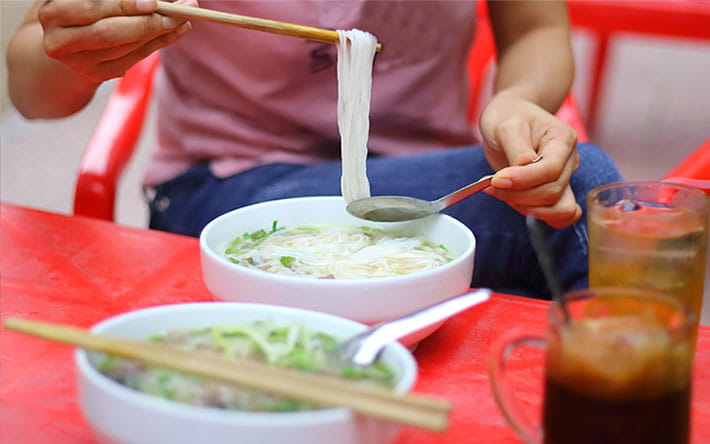 Pho is a must try, especially in Hanoi where the dish takes so many varieties. If you are in the Old Quarter, try Pho 10 (10 Ly Quoc Su) for the best taste of beef noodle. Just 2km away is Pho Ga Quan Thanh (located in front of Hang Dau garden), which has been the place to go to for noodle with chicken. Having said that, Pho is ubiquitious and simply stroll down the street and follow the local crowd.
2. Bun Cha: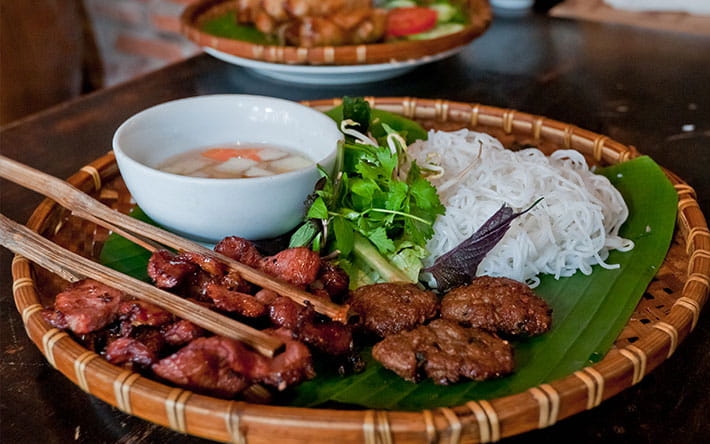 If pho is Hanoi's number one dish, then Bun Cha is easily number two. A favorite with locals and foreigners alike, you will always remember where you were when you tried your first bun cha. Succulent meatballs and pork belly are cooked on a charcoal grill; the smoky aroma of roasting meat saturating every street around breakfast time. The meat is then served in a small bowl of fish dipping sauce with crunchy pickled daikon and green papaya, with a generous bundle fresh herbs and thin rice vermicelli noodles. For those looking for more of a kick in their dish, add fresh red chilies and minced garlic to the sauce – you won't regret it.
3. Bun Rieu Cua: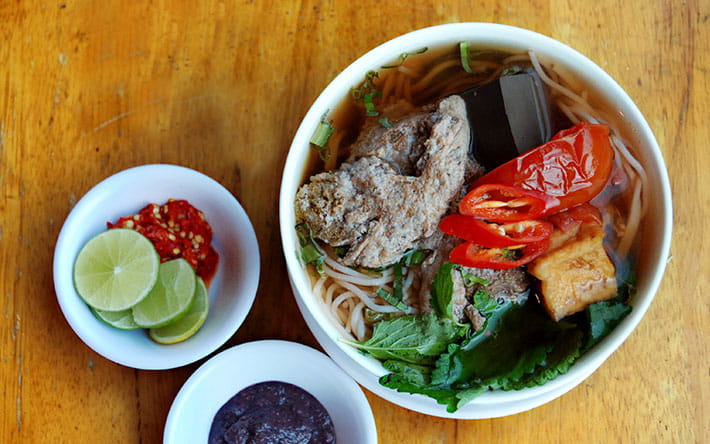 Bun rieu is a noodle soup dish made from a tomato-based broth and thin vermicelli noodles. In Hanoi, it is usually served in the form of bun rieu cua, where ground mud crab or crab eggs are added as a topping. The dish perfectly balances the sweetness of the crab with the sourness of the tomato broth, and has much more complexity than its noodle soup-y cousin, pho, but is much less well-known amongst tourists. Hanoi's Old Quarter is heaving with bun rieu ladies, who are usually sat on the street with nothing more than a pot, some bowls, and an assortment of toppings in front of them, including water spinach, pineapple and spring onion. All that's left for you to do is to sit down on a parodically tiny plastic stool, and wait for this bowl of piping hot goodness to arrive at your table. And you'll pay as little as 1 USD for the pleasure.
4. Banh Cuon: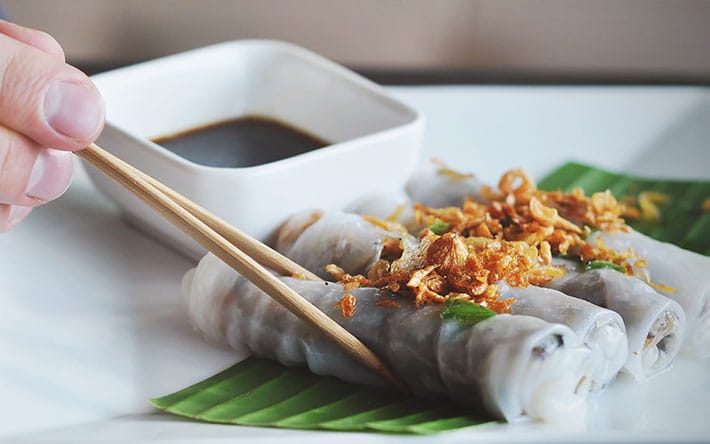 Banh cuon, a savoury rice crepe, is a slippery, satisfying, silky roll stuffed with a pork and mushroom. The filling is wrapped in freshly steamed rice paper and topped with incredibly flavorful crunchy fried onion. A dipping sauce made from fish sauce, chilis, fresh herbs and occasionally sausage is served alongside. Banh Cuon Thanh Van at 14 Hang Ga is a must to try this dish.
5. Egg Coffee: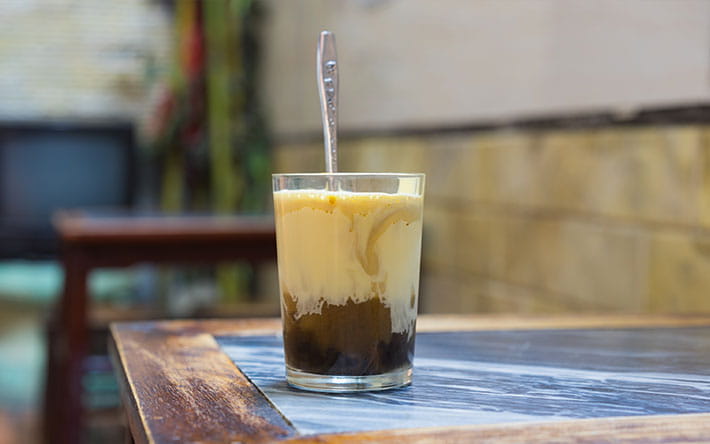 Egg coffee, which sounds weirder than it is, is a major Hanoi specialty. A coffee, dessert and breakfast rolled into one, a raw egg yolk is whipped furiously until it can be spooned into a cup with delicious, chocolatey Vietnamese coffee and a drop of condensed milk. The egg gives the coffee an incredibly velvety, luxurious texture, and the taste of a cross between a crème brulee and an Irish coffee. For the very best egg coffee, try Giang Coffee on 39 Nguyen Huu Huan; an amazing café found only through a narrow passageway. Its full of atmosphere, always busy and a real Hanoi institution!
6. Cha Ca: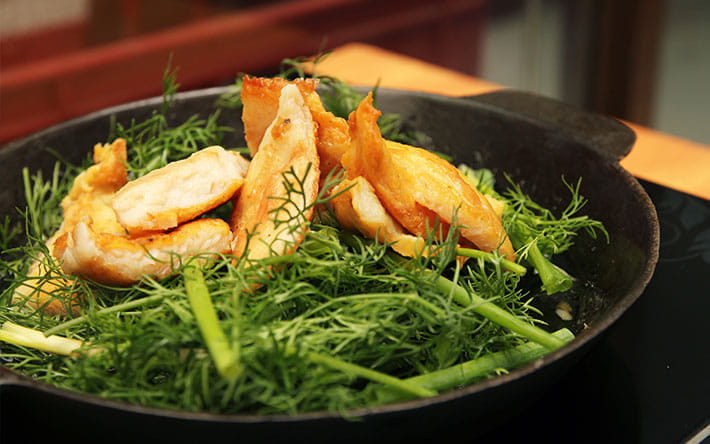 The distinctively Hanoian cha ca is a dish made from salty, fried white fish served on a hot plate. The fish is pre marinated with a specialty mix of turmeric, ginger and fermented rice paste before being served on the plan. The noodle is then accommopanied by a bite or two of fish, roasted peanuts, green onions and a dash of shrimp paste or fish sauce. The harmoninous blend makes an unforgettable dining experience, and definitely worth a try despite its rather pricey side.
7. Banh Goi: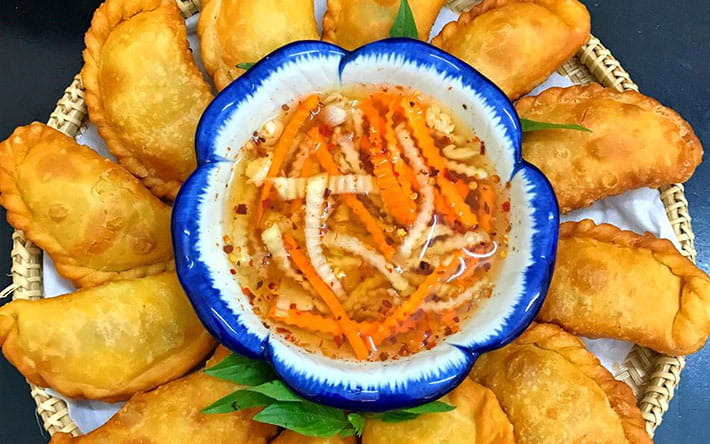 The pillow shaped fried pastry resembles empanada in South America, although without cheese. Minced pork, mushrooms, wood ears, rice vermicelli are mixed and covered by an wheat-and-egg-based dough. The dish is served hot, right off the sizzling pan and with a sweet and sour dipping sauce. You can get a sample of Banh goi together with many other local favourites at 52 Ly Quoc Su.
8. Xoi Xeo: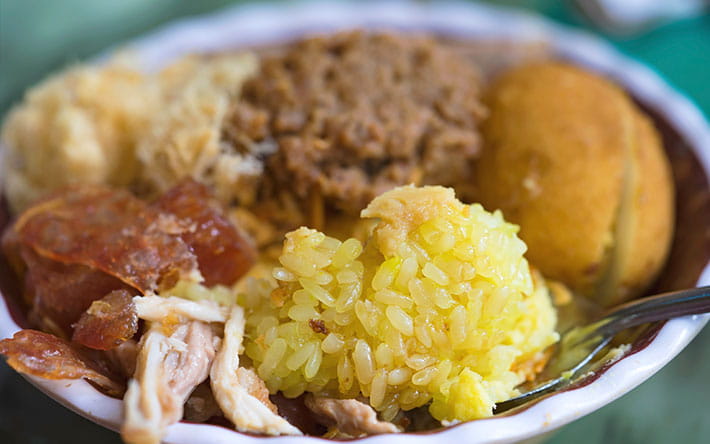 Xoi xeo is among the few non-noodle based specialties of Hanoi. The dish comprises of turmeric colored rice, served with minched mung beans and fried shallot. Some place shall serve side dishes for Xoi Xeo such as grilled sausage, duck egg, stewed pork or boiled chicken. The dish is good for any time of the day, breakfast, lunch and dinner alike.
9. Nem Cua Be: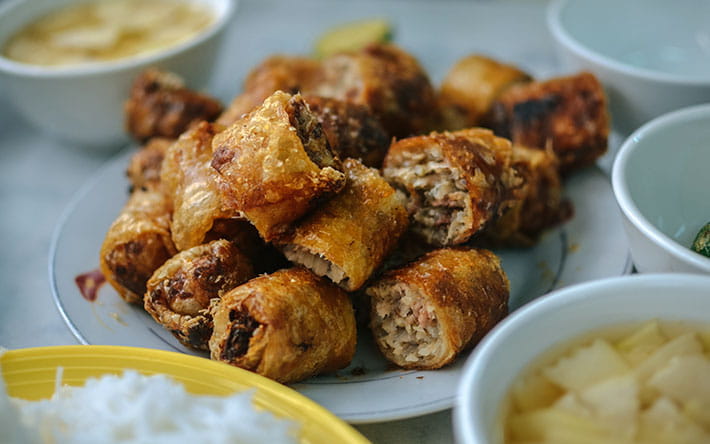 Nem is one of the most iconic Vietnamese snacks and nem cua be are our favourites if we had to choose. These spring rolls are filled with tender, sweet crabmeat, and are a common fixture everywhere, from cheap restaurants, expensive restaurants, markets and even supermarkets. The crispy, savoury, moreish treats are served alone as well as an accompaniment to bun cha. Do like the locals do and order your nem chua be with fresh herbs and lettuce, and dunk them enthusiastically in tasty nuoc cham sauce.
Last update:
READ NEXT