9 Best Halong Bay Cruises for Every Budget
It goes without saying that Halong Bay is one of the biggest musts for first time visitors to Vietnam. As far as the best way to see it, there is no contest. By floating amongst the dragon's tail itself on one of the many junks and boats of course! All throughout the year, hundreds of tour operators are offering cruises of various lengths, prices, and qualities around Halong Bay's roughly 2,000 karsts and secret beaches, caves and grottoes. Here, we've compiled a list of the 9 best Halong Bay cruises from best value for money to those who cater to the more luxury-minded traveller – and everything in between.
1. Orchid Cruise: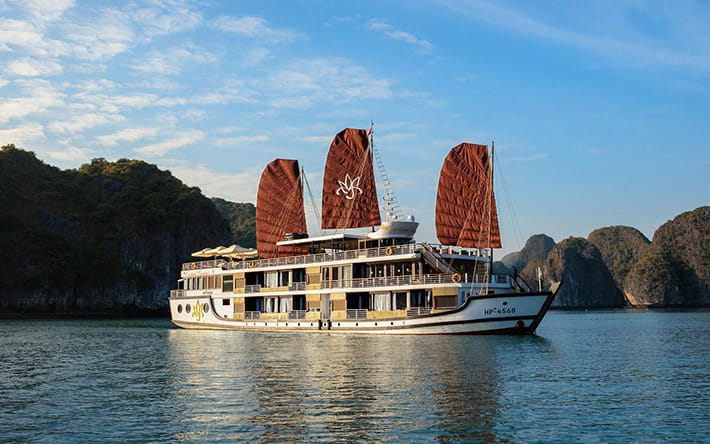 Image Credit: VietnamOnline.com
Orchid Cruises are one of the biggest names in Halong Bay. Their luxurious cruises are very competitively priced and notoriously reliable. They also offer an alternative route around the bay, so you're likely to miss the crowds at the various points of interest on your tour. This can make a huge difference during peak periods!
Their boat is equipped with 14 rooms, all with gorgeous views of the water, a full crew and modern amenities, including hot showers and private balconies. There's even a hot tub!
One day tours go for around 150USD, but better value would be to go for an overnight tour with someone, which would be around 250SUD during peak season.
Cruise Port: Got Pier, Hai Phong, Vietnam (Maps and directions)
2. Azalea Cruise: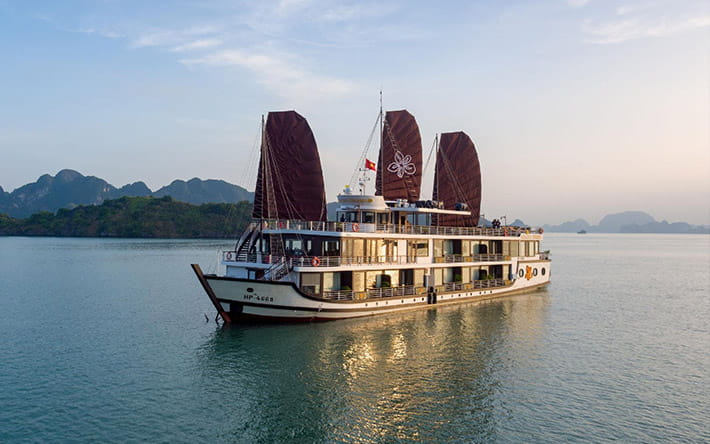 A sister company to Orchid Cruises, Azalea offers 20 luxurious, spacious rooms but at more of a purse friendly price. Featuring a roof deck, a beautiful mahogany interior, buffet dining options, opulent private bathrooms, and even a boutique library, Azalea Cruises are certainly a great option for those wanting a more romantic experience at Halong Bay.
Activities on board don't vary greatly from those offered at Orchid Cruises, with tai chi, cooking classes and seasonal kayaking also readily available. Prices for two days and one night aboard an Azalea Cruise fetch for around 150 USD!
Cruise Port: Got Pier, Hai Phong, Vietnam (Maps and directions)
3. Stellar Cruise: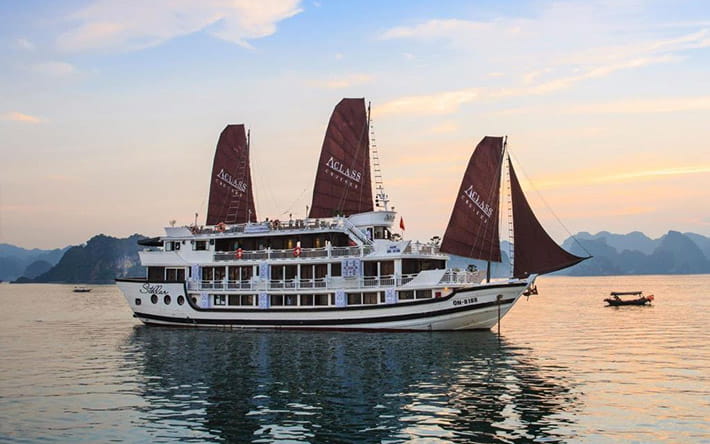 Stellar Cruises are a solid name in the Halong Bay boat industry, and with good reason. They're known for having friendly service in a comfortable, relaxed atmosphere at a price that won't sting.
On-board amenities include a large sundeck with super comfy recliners, a massive dining room perfect for an elegant dinner as well as a separate bar. A Stellar Cruise is a great bet whether you're travelling with friends, family, young old, fussy or adventurous, backpacker party crowd or not. Activities are on offer if you'd like to meet your other passengers, but if not, feel free to lounge on the deck with a cold drink in hand!
Cruise port: Tuan Chau Marina, 0084 Ha Long, Vietnam (Map and direction)
4. Paradise Luxury Cruise: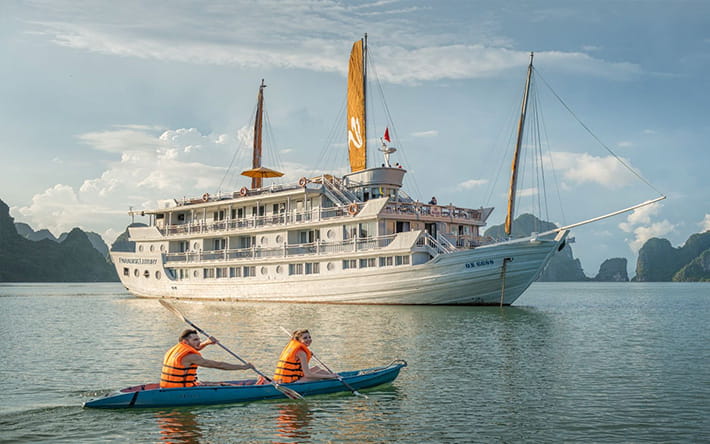 You don't call yourself Paradise Luxury Cruises without being pretty confident. And, we're happy to say that that confidence is well-placed. If you're in search of a cruise that really is a cut above the rest, PLC is a safe bet. Their fleet of luxury vessels include incredible amenities you won't find anywhere else, but it's the activities offered that really make them stand out. Whether it's Vietnamese cooking classes, rice wine tasting, movie nights and even squid fishing you're in to, you'll be treated like family on board a Paradise Luxury Cruise. You can also get a massage or even a manicure before you step back on land!
Prices vary hugely, but you can expect to pay between 350-500USD for an overnight tour around the bay.
Cruise port: Tuan Chau Marina, Ha Long, Vietnam (Map and direction)
5. Aphrodite Cruise: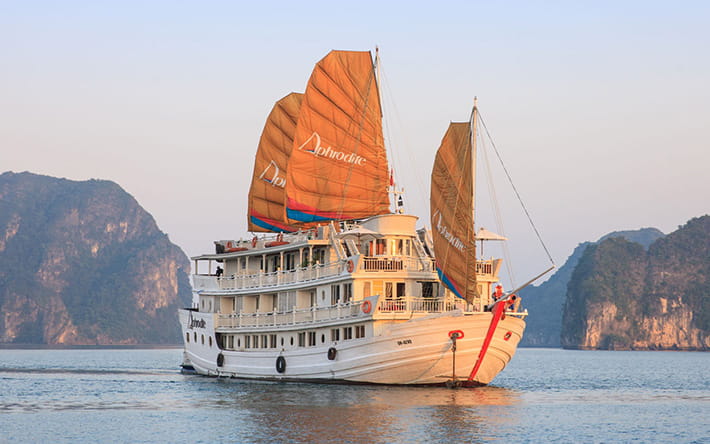 Aphrodite is the ancient Greek deity of beauty, and as the name suggests, an Aphrodite Cruise is as romantic as they come. 17 comfortable cabins divided into luxury, luxury balcony, family suite, and terrace suite, so there's bound to be one to fit your needs. Rooms are equipped with 100% cotton sheets, air conditioning, TV and even a minibar in case all that relaxing has made you peckish. An overnight tour can go for anywhere between 300 and 500 USD, so booking early and scouting around is our best advice.
Cruise port: Tuan Chau Marina, Ha Long, Vietnam (Map and direction)
6. Athena Cruise: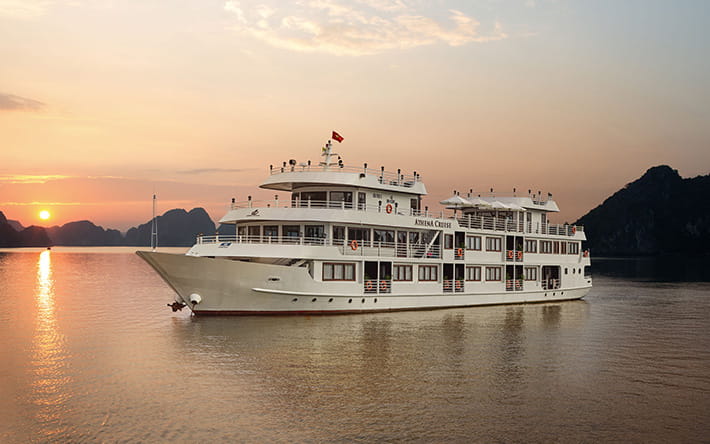 Athena Cruises may have only been operating since 2017, but they have already made quite the name for themselves. Their friendly English-speaking guides steal the show, and will make you feel special during your tour, as well as offering interesting and genuinely useful information about the bay. You'll also be taken on a route around the quieter karsts and bays, meaning the itinerary is flexible around your needs and the environment of the bay, rather than mechanically followed. In particular, quieter Tu Long Bay is rarely offered by the larger cruise companies but is greatly celebrated by those who enjoyed the more private itinerary.
Prices for two-day one-night cruises usually go for around 280 USD, but the longer tours can fetch for much more. As always, booking in advance can save you a lot of money.
Cruise port: Tuan Chau Marina, Ha Long, Vietnam (Map and direction)
7. Bhaya Cruise: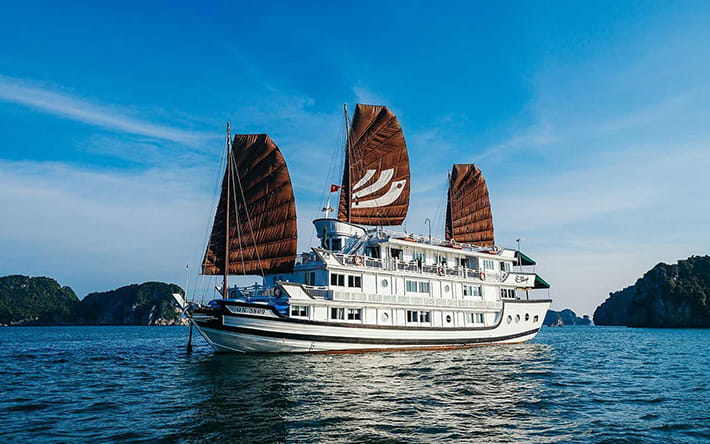 Bhaya are one of the biggest players in the Halong Bay game, and offer a classic experience combining the majestic scenery with traditional Vietnamese culture. Their excellent reputation comes in part because of their luxurious and well-designed cabins, perfect for a romantic getaway, solo travel or vacation with family or friends, all for a price that remains very competitive. They also offer great ways to meet your fellow travellers, including a nightly MasterChef tournament for the budding Gordon Ramsey's amongst you!
For an extensive overnight tour, including features and activities, 149 USD is actually very reasonable and prices Bhaya Cruises towards the bottom of our list.
Cruise port: Tuan Chau Marina, Ha Long, Vietnam (Map and direction)
8. Dragon Legend: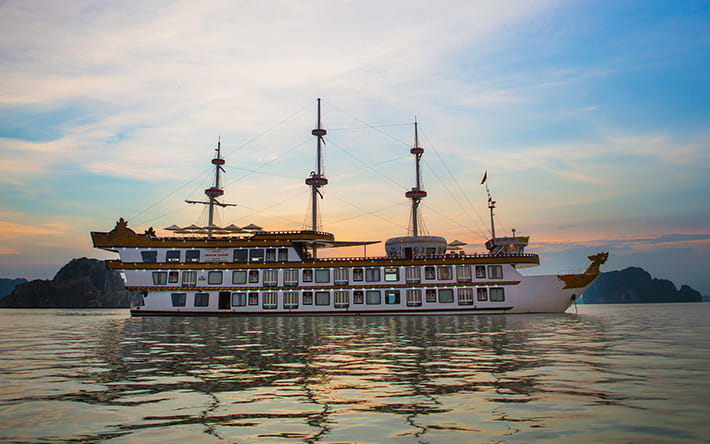 Dragon Legend is a tried and tested tour operator in South East Asia, arranging a huge number of tours to exciting destinations off over the region. Their Halong Bay tour lasts for four days and three nights, and covers all of the major beaches and sites around the bay, and includes a full day of traveling and site seeing around Hanoi's famous Old Quarter. As an operator with an enviable reputation in the industry, service is Dragon Legend's top priority, and as such, they are ranked the highest on TripAdvisor out of all of the cruises that have made our list. This cruise will take you to remote fishing villages, le you experience night fishing with locals, as well as offering cooking classes, buffet dinners and kayaking at an extra fee. Popular with couples, families and groups of friends alike, this cruise, as clichéd as it may sound, has something for everyone. And, at around 320 USD for a four-day trip, we'd argue that this cruise is the best value for money for those who want to see Halong Bay in relative luxury.
Cruise port: Tuan Chau Marina, Ha Long, Vietnam (Map and direction)
9. L'Azalee: best private day cruise: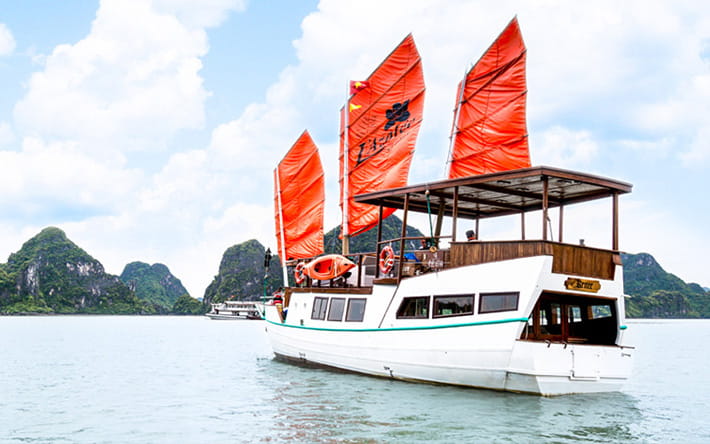 Offering the best private day cruise with the option of riding on a traditional junk, L'Azalee pride themselves on placing focus on traditional Vietnam. If you have limited time in the country, make sure L'Azalee is towards the top of your list, as you will get to experience much of the sadly disappearing traditional life of Halong Bay, including their colourful fishing villages and pearl farms. Their well thought out routes re sure to make for a memorable cruise, be it for one day or a few.
One-night two-day cruises for 224 USD, private day cruise for 60 USD for 4.5 hours, or 295 USD for two adults for 6.5 hours. The best part is, both options include welcome drinks and lunch, including tea and coffee.
Travel on or before the 30th of April 2020 to secure this excellent deal.
Cruise port: Tuan Chau Marina, Ha Long, Vietnam (Map and direction)
How to book: To book a cruise tour, visit our Halong bay cruise page or Halongbaytours.com for over 100 cruise packages.
Last update: