10 Great Places to Go Shopping in Hanoi
Shopping in Vietnam's capital can be confusing. Hanoi's Old Quarter's labyrinthian streets unfold like a complex maze, and it can be impossible to find what you're looking for, until you find yourself on a street that only sells it. Like elsewhere in Asia, you must peel away the veneer of tacky statues and keyrings to find the best souvenirs, but in Hanoi, it helps to know what you're doing. From markets to megamalls, here are our 11 favourite places to go shopping in Hanoi.
1. Lotte Tower: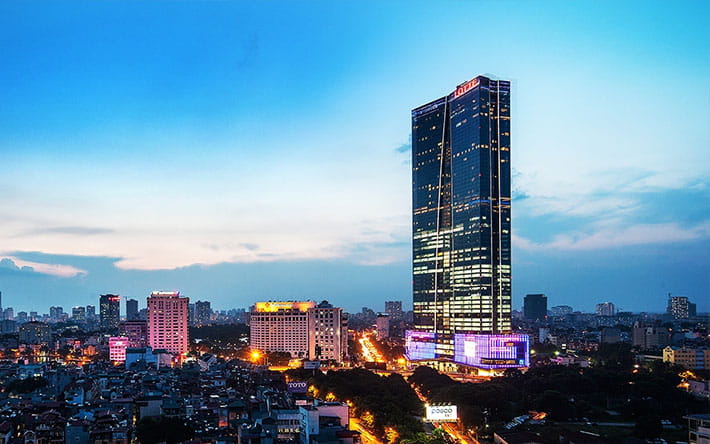 At 65 storeys high, the Lotte tower is one of Hanoi's most iconic buildings, and can be seen clearly from across the city. The building hosts a supermarket in the basement, serving fresh fruits and a popular place for grocery shopping in the area. There are also a section for hotel, and a section for residential building, all on top of the shopping mall. Both Western brands and local fashion shops can be found here, all displayed in a glossy and one of the most beautiful shopping venues in town.
2. Hang Gai Street: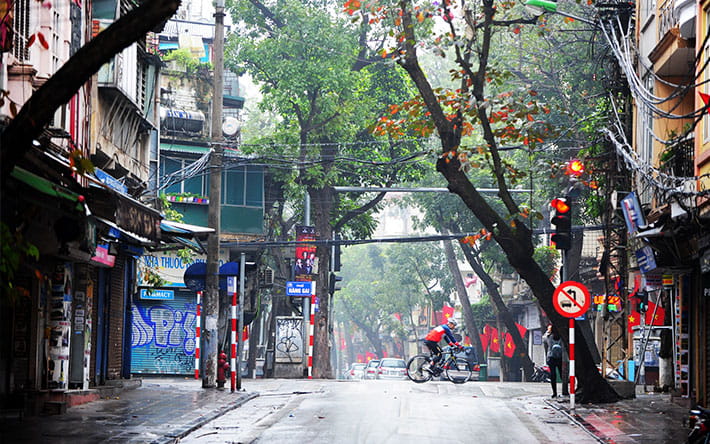 One of Hanoi's most iconic streets, Han Gai is known as the Old Quarter's 'Silk Street', and has been in operation for hundreds of years in and around the street is currently occupies. Here, you will be able to find tailors, haberdasheries, silk and materials of all colours, varieties and qualities, as well as long-established tailors and cobblers. Aside from picking up some great locally made dresses, or having your suit tailored for amongst the cheapest prices on planet earth (and ready in s little as 24 hours), Hang Gai is also the perfect place to pick up souvenirs such as lanterns, books, postcards and bottle openers.
3. Hanoi Weekend Night Market: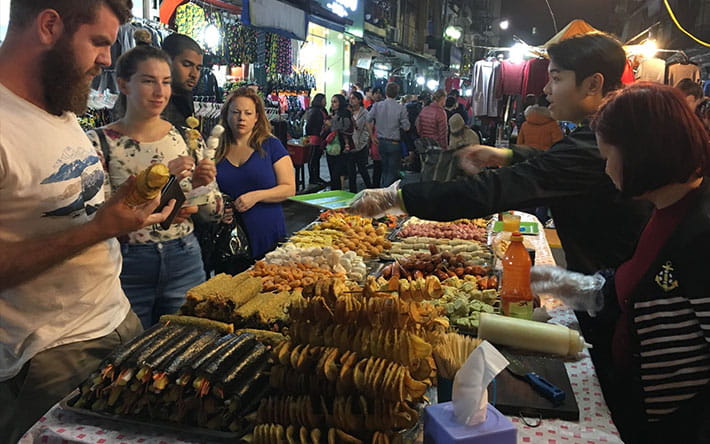 Hanoi Weekend Night Market operates during Friday and Saturday Night. The local government pays to illuminate historic local buildings during this market, creating gorgeous photo opportunities. It is always heaving with vendors and punters alike, amongst a throng of underwear, dubiously labelled 'designer' perfumes, and exciting food stalls selling cakes, fruit and octopus tentacles.
4. Trang Tien Shopping Mall: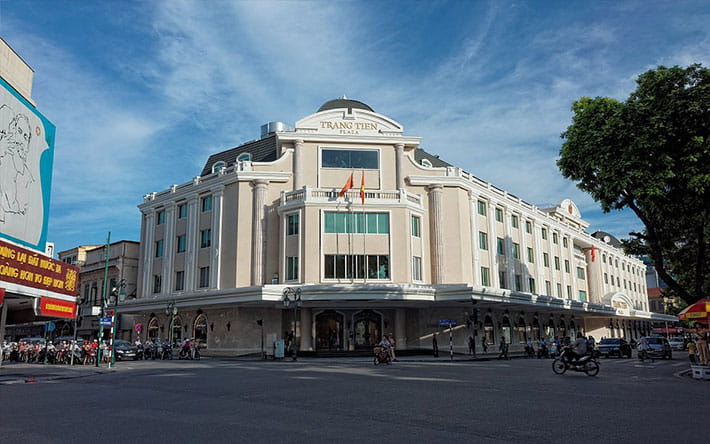 When you think of Hanoi, you think of blaring motorcycles, winding streets and conical hats. But did you know you could also pick up a (real) Dior handbag? Trang Tien Shopping Mall was originally built in 1901, but lost none of its original colonial charm during its 2013 renovation. Located just a stone's throw from Hoan Kiem lake in the towns chic French quarter, Trang Tien houses Bvlgari, Dior, Cartier, Louis Vuitton and many more.
5. Dong Xuan Market: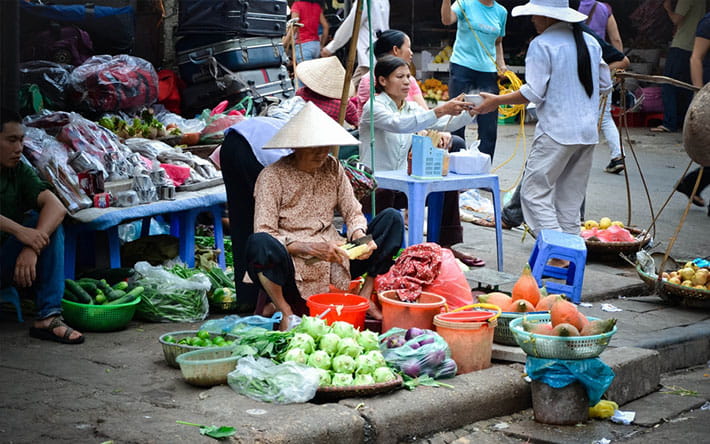 Dong Xuan Market is Hanoi's largest and contains just about the widest array of goods you could imagine in one building. Situated just off the main airport road in the north of the Old Quarter, the markets' four floors are contained inside a distinctively Soviet-era building, and is flanked on all sides by small, tiny, and even smaller stalls and vendors. It's certainly not for the faint hearted. On the bottom floor, you'll find the market's wet zone – the fishy odour permeates well onto the street. Keep going and you'll find yourself on the second floor, where you'll find an array of cheap clothing, cloth, textiles, shoes of all designs and luggage of varying quality, all at wholesale price.
6. Hang Da Market: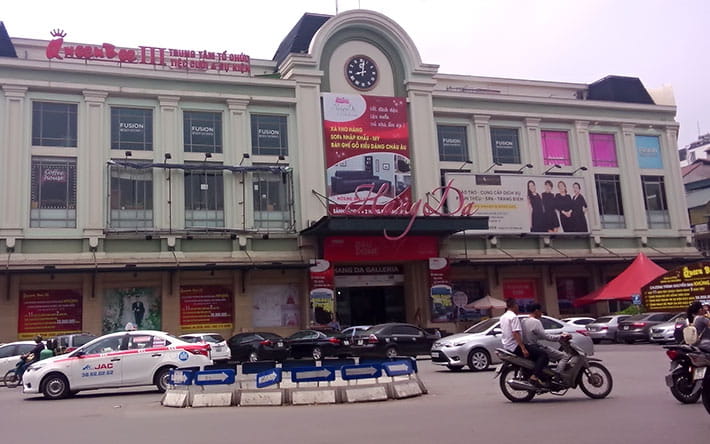 Hang Da Market might not look like much from the outside, but step inside and a bazar of domestic and imported alcohol, fabrics, new and worn fashion garments awaits. It's a great place to pick up pristine second-hand clothing in Western sizes too, with most being shipped over from East Asia and Europe. Hang Da gets very packed so make sure to head down in the morning to avoid the rush, and to treat yourself to a delicious Vietnamese breakfast. We love the wo-blasted noodles, barbeque pork, and traditional pho's on offer, all for deliciously cheap prices.
7. Hang Bac Street: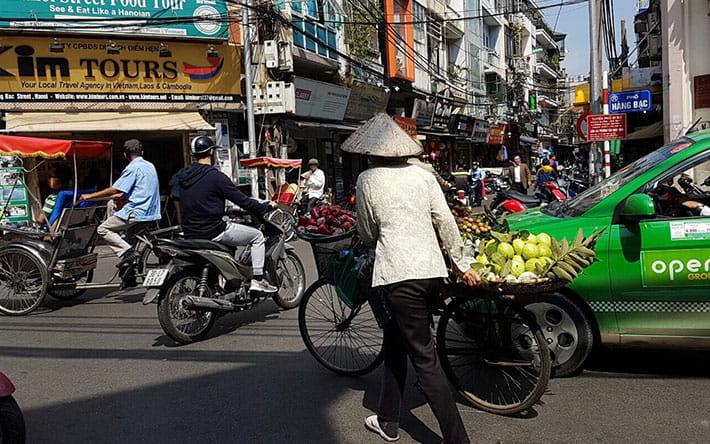 Also known as Silver Street, Hang Bac ('Bac' meaning silver in Vietnamese) has existed for hundreds of years peddling jewellery and precious metals from across Asia. Prices (as well as quality and style) vary, however this small, quaint street has something for every budget. For a more personalised souvenir, some shops also offer one-off pieces that you can personalise for a very attractive price. As well as jewellery, this street is famous amongst locals and expats alike for its reasonable currency exchange – just be warned; check your large notes are current before you leave the store.
8. Nha Tho Street: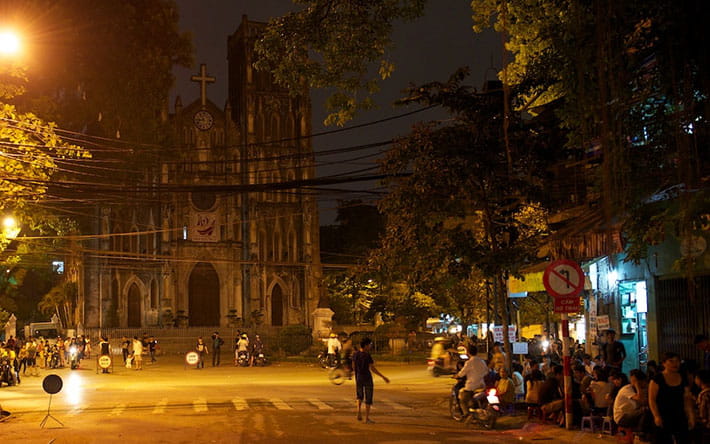 Located just in front of St. Joseph's Cathedral (which is worth a visit in itself), Nha Tho street is a small street of only 100 metres stuffed to the brim with trendy restaurants, balcony bars and small independent fashion boutiques. Pop by on a weekend to rub shoulders with Hanoi's glamourous middle class and expat community, and rest your feet with a glass of wine overlooking the cathedral after hitting Australian-run Things of Substance, which sells Vietnamese-style clothing but in larger, European sizes. Or, try your hand in Mu Accessories, which sells clothing in a range of bold and bright colours that will add a spring to your step when hitting town after.
9. Art Vietnam Gallery: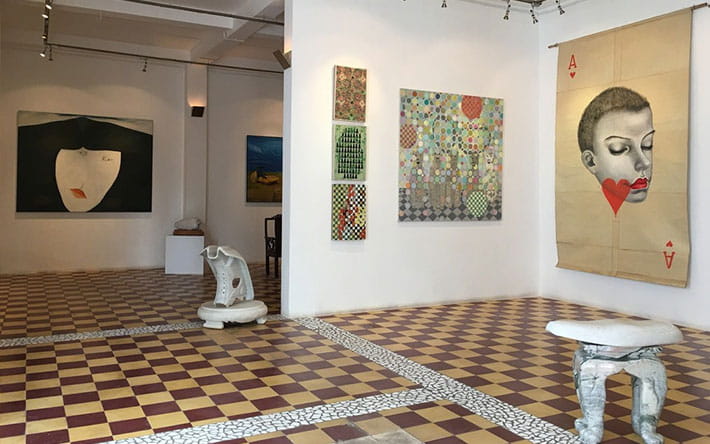 Founded by Suzanne Lecht in 2002, the imaginatively named Art Vietnam Gallery boasts a collection of contemporary paintings, sculptures and photographs by established local and international artists in Hanoi. Positioned on Yen Lac Street, this art gallery is only open by appointment, but you'll get to enjoy a tour by owner Suzanne herself, who's will enthral you with the fascinating stories behind the artists and the pieces they created. This is an ideal place to pick up a one-of-a-kind souvenir that supports local artists, and will remind you of your trip to Vietnam every time you see it.
10. The Bookworm:
Bookworm is a cult favourite of expats and locals alike. Set within a beautiful colonial building on the outskirts of the Old Quarter, Bookworm has been sating appetites for reading since August 2001. As the city's first and only English-language bookstore, you will often bump into interesting characters popping in for a quick break from the urban sprawl, and hours could easily be spend browsing the myriad titles offered. Book lovers looking for a piece of Vietnamese history will be delighted at the range of Vietnamese books in several languages, as well as dusty old copies of the works of Ho Chi Minh and other local heroes.
Last update:
READ NEXT